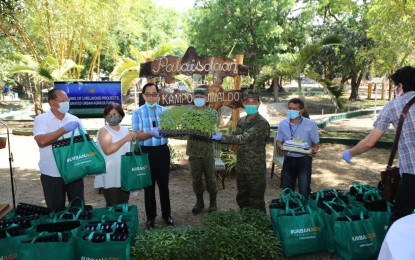 MANILA – The Department of Agriculture (DA) and the Armed Forces of the Philippines (AFP) on Tuesday launched four livelihood projects for soldiers and their dependents residing at the AFP headquarters in Camp Aguinaldo, Quezon City.
In a statement, Navy Capt. Jonathan Zata, military public affairs chief, said these projects aim to ensure the availability and easy accessibility of fresh vegetables, chicken eggs, rabbit meat, and fresh fish inside the AFP headquarters.
Agriculture Secretary William Dar and AFP Vice Chief-of-Staff, Vice Admiral Gaudencio C. Collado Jr., led the ceremony at the Daza Park.
They were joined by AFP Deputy Chief-of-Staff for Civil-Military Operations, Maj. Gen. Edgardo Y. de Leon, and AFP General Headquarters Service Command head, Brig. Gen. Rodolfo B. Lavadia.
"With aid from the Department of Agriculture, it is a highly opportune time for the initiation of the livelihood projects inside Camp Aguinaldo. These do not only seek to be a temporary point of supply during this time of crisis but also as a sustainable source of essential goods for the residents. Rest assured that the AFP shall maintain these project areas and ensure their sustainability in the coming years," Collado said.
The partnership between the DA and AFP was formalized through the signing of a memorandum of agreement.
The Urban Agriculture Program, or ALPAS (Ahon Lahat, Pagkaing Sapat Kontra sa Covid-19), is set to be replicated in other military camps after its pilot implementation in Camp Aguinaldo.
This seeks to ensure the availability and sustainability of food, and provide an alternative livelihood during the enhanced community quarantine.
During the launch, a ceremonial handover of seeds, seedlings, and garden tools from the DA was held, along with the planting of seedlings at the vegetable garden; feeding of rabbits at the raising area; feeding of pullets at the egg-layers' area, and tossing of fingerlings at the fishpond. (PNA)