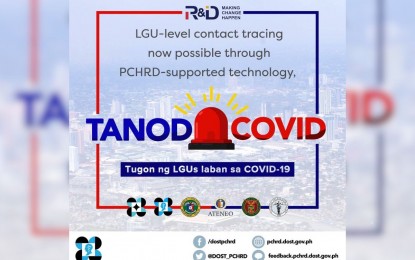 MANILA – The public may inform their local government unit (LGU) if they experience symptoms related to the coronavirus disease 2019 (Covid-19) by simply sending a short message service (SMS) for free, the Department of Science and Technology (DOST) said Tuesday.
In a virtual presser, DOST Secretary Fortunato dela Peña shared that "Tanod Covid", a feature of the Feasibility Analysis of Syndromic Surveillance using Spatio-Temporal Epidemiological Modeler (FASSSTER) app developed through the support of the department, may be used for contact tracing.
It is SMS-based where one can input information for contact tracing, while also avoiding the fear of discrimination, dela Peña said.
He said FASSSTER was developed to create predictive models and visualize possible scenarios of outbreaks of dengue, typhoid fever, and measles at specified periods.
It is now being used to determine the trends in Covid-19.
"It (FASSSTER) gathers the current data, different scenarios, (approximate timeline) when Covid-19 would peak or when the curve may flatten," dela Peña said.
Marlene de Leon, FASSSTER data manager, said the person just needs to register to the approved numbers unique to each LGU.
To register, one must follow the right syntax: Type REG (space) address (space) house number, then send it to the numbers assigned to the LGU.
"It is important to follow the right syntax so it could be read by the system," she said.
Citizens could report Covid-19-related symptoms, which the LGU could forward or report to the Department of Health (DOH), de Leon said.
"Should the symptoms change, they could also send an update to the LGU by sending another SMS," she added.
Representatives of LGUs and the DOH could see the reports or SMS from citizens.
Using the mobile number and address provided by the citizen would make it easier for the LGU to coordinate with him or her, de Leon said.
The representatives of LGUs and the DOH could also see the report summaries and map visualization.
"These would make them (LGUs) easily identify the areas where there are many potential cases," she said.
Moreover, the LGUs could use these data to help them craft their decision, such as if they need to implement an enhanced community quarantine or help them determine the areas where mass testing is mostly needed, de Leon said. (PNA)