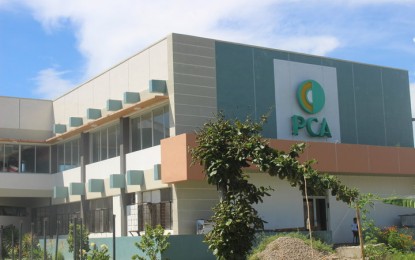 MANILA – As it participates vigorously in ongoing scientific research to help curb the spread of the coronavirus disease (Covid-19), the Philippine Coconut Authority (PCA) Board has approved the release of PHP1.4-million budget as part of the PHP5-million fund requirement of a study project.
The project is in partnership with the Department of Science and Technology's Food and Nutrition Research Institute (FNRI), Philippine Center for Health Research and Development (PCHRD), and DOST Region 4-A, (Calabarzon), Department of Health (DOH), University of the Philippines-Philippine General Hospital (UP-PGH), and other research groups such as that of Prof. Fabian Antonio Dayrit of Ateneo de Manila University.
The project will focus on validating earlier studies on the Philippine-produced virgin coconut oil (VCO), a dietary food supplement that can potentially fight Covid-19 and end the pandemic attributed to its high potency anti-viral, anti-bacterial and anti-fungal qualities.
The lauric acid reportedly found in VCO helps fight the coronavirus in three ways -- disintegration of the virus membrane, inhibition of virus maturation, and prevention of binding of viral proteins to the host cell membrane.
To ensure the quality of VCO products that will be used during the research studies, PCA will provide all the quality VCO, which passed its laboratory analysis for its physio-chemical, microbial, and heavy metal content.
Aside from the supply of VCO to the study, PCA, as a major player, shall also support all the clinical laboratory tests of the subjects in the community-based studies before and after intake of the VCO to determine the beneficial effect both as anti-viral and immune system booster.
The two-pronged study will involve the following: a community-based modified clinical study on the use of VCO involving persons under investigation for Covid-19 infection who exhibit symptoms of the virus being done with FNRI, DOST-Calabarzon, Santa Rosa, Laguna government and Medical City South Luzon; and serving of VCO as a supplement to the daily treatment regimen of Covid-19 positive patients at UP-PGH to assess the possible benefits of VCO if given to patients with moderate to severe Covid-19 on top of the drugs being assessed in clinical trials.
Lauding PCA's participation in the project, Agriculture Secretary William Dar. Dar said: "This (project) is an inter-agency effort reflective of the 'Bayanihan to Heal as One Act'. The success of this research will not only heal Covid-19 patients but also an antidote to poverty in coconut growing communities."
Meanwhile, PCA chief Benjamin Madrigal Jr. said: "The demand for VCO is starting to pick up this month and with the on-going confirmatory clinical research in UP-PGH and the community quarantine facility in Sta. Rosa, pole-vaulting demand is expected."
Madrigal ordered his regional and provincial managers to institute ways and means and step up efforts to help in increasing production of VCO nationwide.
The PCA is also looking into the use of coconut-based ethyl alcohol (ethanol) as an effective disinfectant for hospitals and patient care centers. (PR)