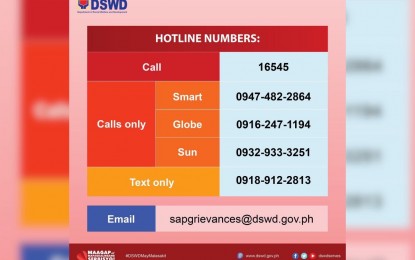 MANILA – The Department of Social Welfare and Development announced Saturday its new text hotline and e-mail address where the public can inquire regarding Social Amelioration Program (SAP) concerns.
"Earlier, DSWD has published its hotline number, 16545, set up through the support of PLDT Enterprise, as well as mobile numbers for GLOBE, 0916-247-1194; SMART, 0947-482-2864; and SUN, 0932-933-3251, which are designated to receive calls only," DSWD said in a press release.
DSWD, this time, set up text a hotline with the number 0918-912-2813 and an e-mail address, sapgrievance[email protected], so the public can easily reach out to the agency.
These numbers are managed by the DSWD's 24/7 Operations Center which will respond to concerns and queries regarding the SAP as well as other DSWD programs, such as the Assistance to Individuals in Crisis Situations (AICS), Pantawid Pamilyang Pilipino Program (4Ps), and the Social Pension for Indigent Senior Citizens (SocPen).
The staff manning the OpCen, DSWD said, will do their best to respond to the queries on SAP, while concerns on the other DSWD programs shall be immediately forwarded to the appropriate office or bureau within the central office and the concerned field offices.
The activation of the DSWD OpCen is part of the department's public service delivery especially that the country is under a public health emergency. (PR)