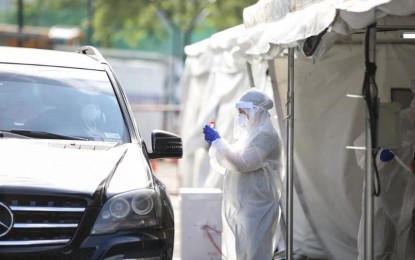 MANILA – The city government of Taguig is using two approaches to make testing more accessible for those who are at risk for the coronavirus disease 2019 (Covid-19).
Mayor Lino Cayetano said this is part of the city's "Systematic Mass Approach to Responsible Testing" (SMART) program.
Residents may log on to www.taguiginfo.com or call the Taguig Covid-19 hotline and health centers for assessment.
"Those who need to be tested will receive a control number with date and time for testing through e-mail and further instructions to fill-out forms," Cayetano said in a statement Monday.
Those who would want to use the first approach can proceed to the city's drive-thru testing centers.
"(We have) a 'by schedule' (basis) for drive-thru testing in Lakeshore or BGC (for those who have their own vehicles)," he added.
Persons availing of the city's drive-thru testing process must be at the site on their scheduled date and time. They must present a digital copy of the control number to receiving booths, proceed to the testing area to get tested, receive the anti-Covid kit, and wait for the results and advice from the City Epidemiology and Disease Surveillance Unit (CEDSU) via phone call.
Those who do not have personal vehicles can avail of the second approach where they will be picked up from their homes and brought to the health centers.
Upon arrival at the health centers, patients must present a digital or printed copy of the control number to health workers, proceed to the testing area to get tested; receive an anti-Covid kit and wait for results and advice from CEDSU via phone call.
They will also be ferried back to their homes after the procedure.
Taguig aims to provide PCR testing to around 15,000 Taguig residents, Cayetano added.
In support of this measure, Taguig has partnered with the Department of Health, Research Institute for Tropical Medicine, St. Luke's Medical Center at BGC and the Philippine Red Cross to ensure that Covid-19 samples can be speedily tested. (PNA)