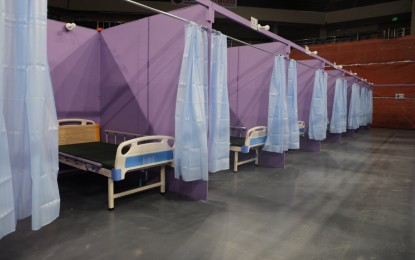 MANILA – The country has 12,420 total bed capacity in different health facilities dedicated to cases of coronavirus disease 2019 (Covid-19), the Department of Health (DOH) reported on Monday.
In its situational report as of May 3, the DOH said 1,657 ward beds are available while the remaining 972 are occupied.
For the isolation beds, about 5,018 are available and 3,538 are occupied.
For the beds in intensive care units, about 764 are available and 471 are occupied.
Some 1,367 ventilators are available while 461 ventilators are currently in use.
As of May 3, there are 37,065 beds in local isolation and general treatment areas for Covid-19 cases or Ligtas Covid centers which are community-managed facilities dedicated to quarantine or isolation of suspected Covid-19 cases.
There are 1,348 beds in Mega Ligtas Covid-19 facilities dedicated to quarantine and isolation such as the Philippine International Convention Center, World Trade Center, Rizal Memorial Coliseum, Ninoy Aquino Stadium, Philippine Arena - all managed by the government.
For personal protective equipment, the DOH has distributed 480,350 coveralls, 2,488,500 masks, 364,185 gowns, 335,285 Kn95, 83,840 N95, 118,292 face shields, 756,720 gloves, 346,513 goggles, 563,310 head caps, 2,392 thermal scanners, 87,000 aprons, 30 non-invasive ventilators and 8 sanitation tents as of May 3. (PNA)