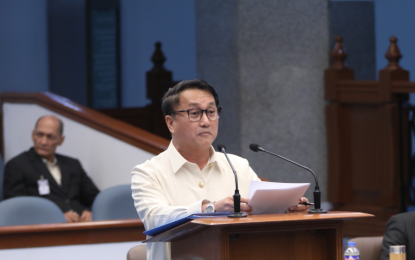 MANILA – As the country continues to grapple with the coronavirus disease (Covid-19) crisis, Senator Francis Tolentino has filed a measure seeking to institutionalize an installment payment scheme on basic utility bills during a state of calamity.
Senate Bill No. 1473, to be known as "Three-Gives Law," seeks to provide a moratorium on all residential electric, water and telephone bills during a state of calamity, and at the same time provide for an installment scheme on all amounts which accrue during the moratorium "in order to promote social justice and ensure the economic security of the people."
"It is the intent of this measure to uphold the general welfare of the people and to assist their economic well-being immediately after the occurrence of natural or man-made calamities or health epidemic," Tolentino said.
"Malaki ang maitutulong nito sa mga kababayan natin na lubhang naapektuhan ng Covid-19, lalo na iyong mga nawalan ng hanapbuhay at pagkakakitaan (This measure would greatly help our countrymen who were severely affected by Covid-19, especially those who lost their jobs and livelihood)," he said.
Under the proposed measure, holders of public utility franchises and all service providers are prohibited from exacting payment or from disconnecting the service due to non-payment during the entire duration of a state of calamity.
Voluntary payment by customers, however, is not prevented.
SB 1473 also provides that "any amount due and demandable during the moratorium period shall be payable in three equal monthly installments, without interest, which shall accrue a month after the cessation of a state of calamity."
Public utility franchise holders and service providers found in violation of this measure shall be punishable with a fine of not more than PHP1 million per infraction.
Once enacted into law, the measure shall be implemented by the public utility regulatory agencies concerned, such as the Metropolitan Waterworks and Sewerage System, Local Water Utilities Administration, National Telecommunications Commission, Energy Regulatory Commission, and the National Electrification Administration. (PNA)