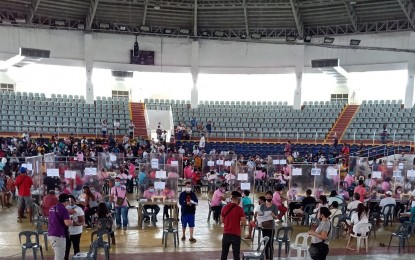 TACLOBAN CITY – The city government here is eyeing the distribution of PHP258.17 million cash aid from the central government to identified 51,635 families badly hit by the health crisis.
Each eligible poor family will receive PHP5,000 from the Department of Social Welfare and Development's (DSWD) social amelioration program (SAP), a cash emergency subsidy for those greatly affected by movement restrictions due to coronavirus disease 2019 (Covid-19) pandemic.
The payout started on Tuesday and benefitted nearly 6,000 families for the initial batch. The city government is eyeing to complete the distribution to the beneficiaries on Thursday.
Leading the giving of cash aid at the Astrodome are staff from the city treasurer's office and city social welfare and development office.
"To abide by the social distancing measures, the local government limits the number of people entering the venue and put up acetate as barriers. Likewise, personnel and recipients have been sanitized, as part of the health and safety protocols imposed by authorities," the city government said in a statement issued on Wednesday.
Under Republic Act 11469 or the Bayanihan to Heal as One Act, financial support will be granted to indigent families affected by the quarantine measures to prevent the spread of the coronavirus disease 2019 (Covid-19).
The cash assistance prioritizes those in the most vulnerable sector and the informal workers, granted per family, not individually, the DSWD said.
The city remains free of Covid-19, but residents have been told to be extra cautious with the presence of coronavirus carriers from other towns being treated at the Eastern Visayas Regional Medical, the referral hospital for highly-infectious diseases. (PNA)