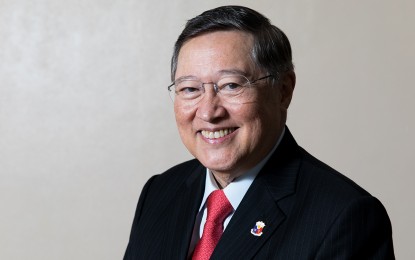 MANILA – Government expenditures for coronavirus disease 2019 (Covid-19) is expected to increase the budget deficit to around PHP1 trillion this 2020.
This was disclosed by Finance Secretary Carlos Dominguez III Wednesday but assured the public that the government was in a good financial position even before the pandemic hit.
The inter-agency Development Budget Coordination Committee (DBCC) has set a 3.2-percent budget deficit cap for this year amounting to PHP677.6 billion.
Dominguez said there are lots of numbers that economic managers are currently looking at, but cited "the first number you have to figure out (is) what exactly is going to be our deficit for the year."
"And our estimate is about a trillion pesos, around a trillion," he said.
Dominguez said the government's four-pillar Covid-19 response is being funded by the tax collections, the dividends from government-owned and controlled corporations (GOCCs), and loans, among others.
He said that although collections of taxes have been delayed due to postponement of filing of income tax returns (ITR) and other related documents because of the quarantine period, the government will still be able to collect these.
He added the government was able to receive record-high PHP120 billion dividends from GOCCs, and this will be a plus for the Covid-19 response program.
The government has signed several loan agreements with the Asian Development Bank (ADB) and the World Bank (WB), among others.
These include the loan pact with ADB that allows the Duterte government to access up to USD1.5 billion in budgetary support for Covid-19 programs and the USD100-million loan from the WB.
Dominguez said they are also in discussions with the governments of Japan, Korea, China, and France for "project-based bilateral financing."
He declined to give specifics on where the government's Covid-19 response financing currently is since they are still awaiting the reports until end-April, but vowed to disclose this once the data is available.
"We are exactly where we want to be," he added.
Meanwhile, Dominguez said Finance officials "are willing to look" at the Corporate Income Tax and Incentives Rationalization Act (CITIRA) that Senators plan to pass to help companies recover from the economic impact of the global pandemic.
CITIRA is part of the government's tax reform program that aims to correct the country's tax system.
Dominguez earlier said Senate Bill No. 1357, or the CITIRA, targets to make incentives given to companies more targeted, which will allow the country to be more competitive in the region.
If this bill is approved this year, the special tax rate on gross income will be increased immediately this year from the present five percent to eight percent then to nine percent next year, and to 10 percent by 2022.
On Wednesday, Dominguez said they are "willing to look at it (CITIRA) and most likely cut it further more quickly than originally planned." (PNA)