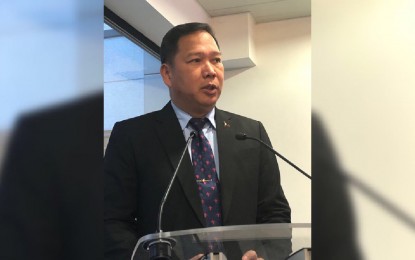 MANILA – Press freedom in the Philippines is very much alive contrary to claims of some groups that media freedom in the country is under threat following the cease-and-desist order by the National Telecommunications Commission (NTC) against ABS-CBN Tuesday.
This, according to Southern Luzon Command chief, Lt. Gen. Antonio Parlade, Jr., in reaction to Amnesty International Philippines Section Director Butch Olano's statement that "ordering ABS-CBN to stop its operations is an outrageous attack on media freedom".
"What martial law are you talking about? Press freedom in the country is very much alive," Parlade said in response to Olano's claim that it "is a dark day for media freedom in the Philippines, reminiscent of martial law when the dictatorship seized control over news agencies".
Parlade said such claims are "non-sequitur" as the ABS-CBN issue is simply the regulation of a franchise that is a prerogative of the State and enshrined in the Constitution.
"Granting a franchise is the exercise of the sovereign power of a state to allow the use of sovereign assets for an assigned period of time. In the case of ABS-CBN, these sovereign assets are frequencies assigned to it for use in its broadcast businesses. The franchise is a usufruct(usage) right and since it is a right to use, regulation and accompanying rules to prevent abuse comes as a matter of course," he said in a statement sent to the Philippine News Agency on Wednesday.
These rules, he said, are designed to protect the citizens of this country and the general interest of the media industry.
"Since a franchise is a privilege and is not a right when the term for the granted franchise expires, it is the prerogative of the State to renew or not renew such franchise," he said.
Despite the NTC's cease-and-desist order against ABS-CBN, other Philippine television channels and media outfits are still operating, he added.
"Has NTC stopped the operation of GMA-7, Channel 5, CNN Philippines, and other TV stations? (No one has) stopped PDI (Philippine Daily Inquirer), Philippine Star, and any other print media (from operating). Your communist allies and writers in the print media are still writing their pieces. Our favorite stations are still on air. So what suppression of press freedom are you talking about?" he said.
Parlade also asked Amnesty International Philippines on whether it decided to file a complaint against the network when it covered the forum organized by militant groups in the Quezon City Sports Club to allegedly agitate people and destabilize the government last November.
"The case of ABS CBN can be likened to Rappler's. We have laws and regulations to follow and promote and it is not the law of the rich and powerful. Be thankful because for the first time in history there is an equalizer who wouldn't budge about how some rich and mighty people think that they are more 'equal' than others. It's about time we enforce our laws. So stay home and help the government address this (coronavirus disease 2019) Covid-19," he added.
He said Olano and his group should stop harping on a non-issue.
"Yes to law and order! Otherwise you might just get the martial law that you deserve," he added. (PNA)