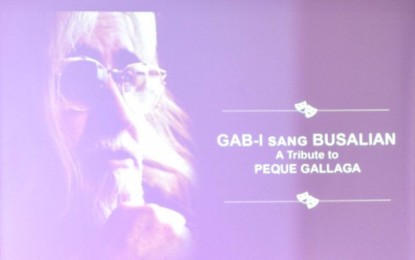 BACOLOD CITY – The community of film, theater, and other cultural artists in Negros Occidental is mourning the passing of acclaimed director Peque Gallaga in a hospital here on Thursday. He was 76.
The Negros Cultural Foundation, Inc. and The Negros Museum, as well as the Teatrokon: West Visayas Theater Network issued separate statements paying homage to the legendary filmmaker, theater director, and multi-media artist.
Bacolod City Mayor Evelio Leonardia expressed his sympathies to Gallaga's wife Madie and their children.
"Bacolod lost Peque Gallaga, one of her most illustrious sons whose body of work impacted not only the local art and culture scene but, in fact, also that of the rest of the nation and the world. He is such a big loss, indeed," he said.
Leonardia said as a former tourism officer of the province, he feels privileged having participated in the initial work of "Oro Plata Mata."
"I had joined Peque in his location hunting for the movie. He has been a friend since and he even made valuable contributions to enhance the substance and directions of our MassKara Festival," he added.
In a statement, the Gallaga family said they would not hold a funeral service to observe safety precautions during this time of coronavirus disease 2019 (Covid-19).
"We are grateful for your thoughts, well-wishes, and prayers but we would appreciate some time to grieve as a family in private during this very painful time," they added.
Tanya Lopez, executive director of The Negros Museum here, said Gallaga's generosity of spirit has touched the lives of many generations of artists.
"He lit many hearts. He changed many lives. His creativity and passion for the arts cultivated and mentored, not only theater artists and filmmakers but also teachers, cultural workers, and art managers," the foundation and the museum also said.
Last February 18, The Negros Museum hosted the "Gab-i sang Busalian", an intimate gathering of artists, family, and friends who paid tribute and honor to Gallaga.
Lopez said "it was an evening of laughter and heartfelt recall of indelible memories – a witness to the hugeness of his heart, the depth of his soul, and his undeniable brilliance."
"Madamo gid nga salamat, Direk Peque (Thank you very much, Director Peque)! You will truly be missed and you will always be remembered. Today, we lost a legend but your legacy remains," she added.
Rudy Reveche, president of Teatrokon: West Visayas Theater Network, thanked Gallaga, whom he referred to as "Nelson Bakunawa", the late director's Instagram handle, for the inspiration, guidance, and support.
"We owe it to you, Direk Peque – for the spark that continues to burn, now passed on to the new generation of young theater thespians," he added.
Reveche read the rationale during the museum tribute that bestowed on Gallaga the title of "Busali-an", a Hiligaynon word that means "charming, enchanting, a spell-binder, one possessing powers or influence over others, or a famous man, a hero."
He said Teatrokon was formed in 1992 after the Negros Summer Workshops at the University of Saint La Salle-Bacolod spearheaded by Gallaga and Dr. Elsie Coscolluela.
The Negros Occidental aggrupation expanded into a Western Visayas theater network and had produced and managed several landmark theater productions and events and had involved theater leaders from the Visayas, Reveche added.
An Outstanding Negrosanon Centennial awardee in 1990, Gallaga, whose full name is Maurice Ruiz de Luzuriaga Gallaga, was best known for helming the 1982 classic "Oro, Plata, Mata", a film about the lives of two rich families in Negros during World War II.
He was also one of the directors of the famous horror movie franchise "Shake, Rattle and Roll" and also directed "Tiyanak" and "Aswang".
His other films include "Scorpio Nights" and "Virgin Forest", as well as the 1990s fantasy movies "Magic Temple", "Magic Kingdom", and "Batang X".
Before he passed away, Gallaga worked with former Negros Occidental lawmaker Alfredo "Albee" Benitez on the movie for "Magikland", a theme park in Silay City. (PNA)