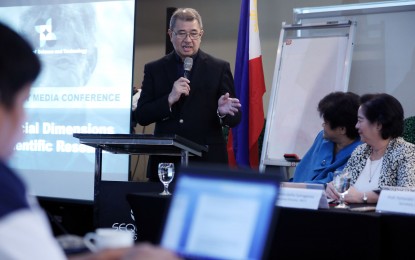 MANILA – Department of Science and Technology (DOST) Secretary Fortunato dela Peña said Friday he might include other centers aside from the Santa Rosa Community Hospital in Laguna in the community-based study on the effectiveness of virgin coconut oil (VCO) in the recovery of coronavirus disease 2019 (Covid-19) patients.
In a virtual presser, dela Peña said seven patients have enrolled in the trial and he is confident that more would join the study in the coming days.
The target number of participants is 90.
"We need that sample size. We may include other centers," he told the Philippine News Agency (PNA).
Dela Peña said the study would take about a month, during which VCO would be incorporated in the food provided to the patients, as well as people they have contact with and other high-risk groups.
Apart from the community-based study, the DOST is also set to conduct a hospital-based clinical trial to assess the possible benefits of VCO if given to patients with moderate to severe Covid-19.
Meanwhile, dela Peña reported that the Department of Health (DOH) is using at least three DOST-developed or -funded technologies in hospitals.
These are the locally developed test kit for Covid-19, the RxBox, and the specimen collection booth (SCB).
The DOST has allotted PHP53.2 million for kits good for 26,000 tests, meant for distribution to various hospitals.
The RxBox, on the other hand, could monitor a patient's vital signs, pulse rate, blood pressure, oxygen saturation, and even electrocardiogram readings. It helps doctors to minimize contact with patients during the pandemic. More than 100 units were already delivered to the Philippine General Hospital.
The SCB's design was based on testing booth designs in other countries. The DOH earlier requested the DOST to make 132 SCBs to be delivered to various hospitals across the country and select DOH offices. About half of the 132 units were already delivered as of Friday. (PNA)