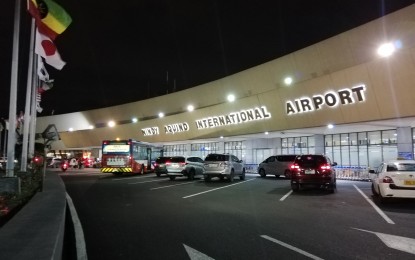 MANILA
– Inbound commercial international flights will remain restricted at the Ninoy Aquino International Airport (NAIA) until June 10, the Civil Aviation Authority of the Philippines (CAAP) said on Saturday.


In a phone interview, CAAP spokesperson Eric Apolonio said the limitation would only apply to inbound commercial flights.

"NAIA would only accommodate 400 passengers a day. So we have to limit the inbound flights. Chartered flights (will) have no limitations, regardless of how many passengers they carry," he said.

NAIA earlier requested CAAP to issue a notice to airmen (NOTAM) regarding the inbound international commercial flight restriction, Apolonio said.
The other international airports in the country did not ask for it, he added.

Apolonio clarified that while chartered flights will not be restricted, they still need to seek approval before flying.

In a statement, the CAAP announced that charted flights must secure clearance from the Department of Foreign Affairs (DFA) and CAAP, and will only be allowed to land NAIA on Mondays and Thursdays.

Commercial flights will be allowed on Tuesdays, Wednesdays, Fridays, Saturdays, and Sundays, after getting approval from CAAP 48 hours before the scheduled departure from the airport of origin.

"Every airline must seek a permit from us. We may give clearance to 10 airlines, for instance, but it would still depend on MIAA (Manila International Airport Authority) if they would be prioritized in slotting. MIAA would give the slots," Apolonio said.

Inbound international flights are barred to enter the country for one week since May 3.

"The decision is meant to decongest our quarantine facilities to protect our people by preventing the further spread of Covid-19 and also ensure that our overseas Filipino workers (OFWs) are well taken care of when they arrive from abroad," national policy against Covid-19 chief implementer Secretary Carlito Galvez Jr. said in a statement.

From May 3 until June 10, the following are exempted from the restrictions: en route flights experiencing an emergency, cargo flights, air ambulance, military flights, weather mitigation flights, maintenance flights. (PNA)