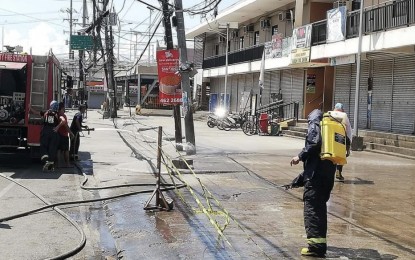 CEBU CITY – Mayor Gerald Anthony Gullas has ordered the Tabunok Public Market, one of the largest local government-run markets in southern Cebu, closed every Sunday as a measure to prevent spread of coronavirus disease 2019 (Covid-19).
"All business establishments including public markets and offices shall be closed on Sundays," Gullas said on Monday in his executive order that assigns a new schedule of market operations in Tabunok, as part of restrictive measures to protect the city residents from coronavirus infection.
The EO also ordered all chicken and pork lechon stores in the city to cease operations every noon.
"No person shall be allowed to leave their respective houses except for buying/purchasing (of) essential goods, medicines and for emergency cases," Gullas said in the EO.
However, the mayor exempted from the order front-line government offices (city and barangays), police and other uniformed services, pharmacies, medical clinics and hospitals, manufacturing and industrial firms, fuel and petroleum establishments, bakery and water refilling stations.
The EO also permits residents of Barangays Cansojon, Poblacion, Lagtang, San Isidro, Mohon, Lawaan 2, and Tabunok to go to the market on Mondays and Thursdays.
Residents of the mountain barangays of Jaclupan, Manipis, Campo 4, Maghaway and Tapul as well as the coastal villages of San Roque, Dumlog and Tangke are allowed to do marketing chores every Tuesdays and Fridays.
Every Wednesday and Saturday, only residents from the urban barangays of Looc, Biasong, Lawaan 3, Lawaan 1, Bulacao, Linao and Candulawan are allowed entry at the Tabunok public market.
"After the 48 swabs turned out to be negative in San Roque, their market days are back to Tuesday and Friday," Gullas said.
However, residents of locked down barangays due to a high number of confirmed Covid-19 cases will not be able to leave their homes until their swab test results are made public.
Meanwhile, the city government deployed vehicles for the free ride of residents who will go to Tabunok market.
Gullas directed the residents to always bring with them their quarantine pass, as well as wear masks at all times while maintaining social distancing.
He said the EO takes effect on Monday. (PNA)