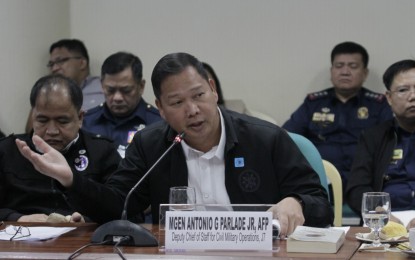 MANILA – The National Task Force to End Local Communist Armed Conflict (NTF ELCAC) is only tasked to neutralize communist terrorist groups and their allies, and not picking a fight with ABS-CBN and other members of the media.
This, according to Southern Luzon Command (SOLCOM) chief, Lt. Gen. Antonio Parlade, Jr., in a statement to the Philippine News Agency Monday night.
"The NTF ELCAC is not picking a fight with innocent media. ABS-CBN workers and their media friends should know better," he added.
Parlade, however, said this is the impression Communist Party of the Philippine (CPP) founder Jose Maria "Joma" Sison successfully created evidenced by the signing of a media petition in the wake of the ABS-CBN franchise incident.
"Well, this is what happened to 80 (percent) of those who made that media petition arising from the ABS-CBN brouhaha. The list of the petitioners is long but does the rest of them understand that they are being exploited and dragged again, as we predicted a few days ago, by these commies?" he said.
Parlade, who is also a member of the NTF ELCAC, said communist rebels are hoping that the government will red-tag those in the media petition.
"The CPP only wishes that the government will-red tag you all. But no, we want to isolate and secure you from Joma's stooges. This is a showdown between Joma's propagandists and the truth," he added, daring other long-time cohorts of the CPP operating in the media expose themselves some more.
"The same ILPS (International League of Peoples' Struggle) network already did. Karapatan, NUPL(National Union of Peoples Lawyer), NUJP(National Union of Journalists in the Philippines), CEGP (College Editors Guild of the Philippines), Anakbayan, Bayan, Bulatlat, Altermidya, Kodao, Tudla, Kilab, Northern Dispatch, UJP (Union of Journalists of the Philippines), etc. most of which were creations of the CPP itself," he added.
There is no need for the NTF ELCAC or the government to red-tag these organizations as scanning their websites' contents would show that they are using the ABS franchise issue in an "OUSTDuterte" move.
"If you support a terrorist like 'Joma' and the CPP, who had been killing our IPs, raping their lady fighters, massacring their own kind, attacking our democratic system, why should people believe you with your fascist and tyrant narrative? We will have worse under the CPPs proletarian dictatorship. It's proletarian so where do you think your professional journalistic and artistic talents will go in a communist franchise? And what about you oligarchs?" Parlade said.
Communist rebels and their allies, he added, are very skillful in the use of lies and propaganda in dividing the country for more than 50 years, with the end goal of them taking over.
"For 52 years the CPP was able to master the art of deceit and blatant lying and that kept us a divided country which is full of hostilities and hate for each other. This communist-inspired insurgency has taken its toll on the best of our youth who were targeted mostly for their talent in speaking and writing, not so much to inspire but to be used and exploited by Jose Maria Sison to fight his war of toppling our democracy, and supplanting it with his," he said.
Fortunately for the government and the NTF ELCAC, some of these communist propaganda writers were able to survive the 1980s purge and able to tell their stories.
"Some were eventually enlightened to help the government understand how the communist mind and propaganda machinery works. What we are writing now is basically culled from their own experience in the underground, using some of their words as products of deep reflection and introspection after they have resurfaced. These former cadres are now guiding us so that we may finally end this insurgency, as the NTF ELCAC is mandated to accomplish," he said.
This fight, he said, is political warfare and just like any insurgency, this is 90 percent propaganda and 10 percent tactical.
"For the longest time, the AFP has prosecuted this war with 90 percent of its might (just as the US did in Vietnam). It did not have the wherewithal to address socio-eco issues thrown at them," Parlade said.
He cited an example of how an AFP officer raised apolitically understands that insurgency is not a result of poverty.
Nor how will the same military officer argue that social injustice did not cause a young peasant to join the New People's Army (NPA), if not agitated by the communist rebels' Sandatahan Yunit Propaganda.
"Indeed, how can a smart cadet win over an equally smart but radicalized KM and ARMAS (hence underground CPP members) if he does not understand that these 'scholars' were targeted for recruitment by the CPP and their collective allies from amongst the CEGP, NUJP, LFS, ARTISTA, Kabataan, etc. to form part of the CPP and NDF (National Democratic Front) Propaganda Bureau?' " he added.
The CPP-NPA is listed as a terrorist organization by the United Kingdom, the European Union, the United States, Canada, Australia, New Zealand, and the Philippines. (PNA)