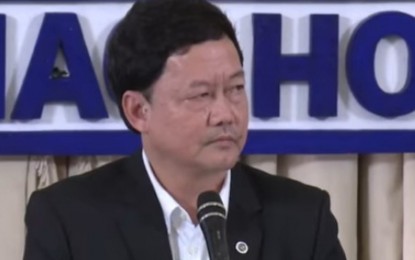 MANILA – The school teacher who was arrested for promising to give bounty to whoever can kill President Rodrigo Duterte cannot just apologize for his wrongdoing and will face charges before prosecutors for his actions, the Department of Justice (DOJ) said Tuesday.
"I understand that this person has been placed in custody by the National Bureau of Investigation (NBI) and may be brought to inquest. So I'll leave it to the investigating prosecutor. However, an apology is not one of the grounds for extinguishing criminal liability." Justice Secretary Menardo Guevarra said in a message to reporters.
Ronnel Mas, who goes by the Twitter account "@RonPrince" on May 5 tweeted "I will give 50 million reward kung sino makakapatay kay (to whoever can kill) Duterte. #NoTo ABSCBN ShutDown".
On Tuesday, the NBI Dagupan District Office in Pangasinan said Mas, a resident of Barangay Poblacion North, Sta. Cruz, Zambales, was nabbed after an interprovincial search in Zambales and Pangasinan.
However, Mas deactivated his Twitter account, prompting the NBI agents to investigate until they eventually identified him through his interactions online.
He was subsequently traced by investigators as a teacher at the Taltal National High School in Zambales.
"One cannot feloniously injure another and get away with it by merely saying sorry," Guevarra added.
The NBI Central Office ordered its Pangasinan office to transport the suspect to Manila where the latter was presented to newsmen. (PNA)