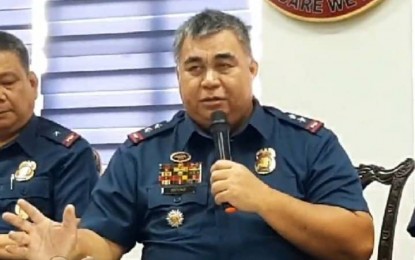 MANILA – National Capital Region Police Office (NCRPO) chief, Maj. Gen. Debold Sinas, may face criminal and administrative charges over the mass gathering held for his birthday amid the enhanced community quarantine due to the coronavirus disease 2019 (Covid-19) pandemic.
"There are a lot of possible violations. The resolution of the (Inter-Agency Task Force for the Management of Emerging Infectious Diseases). There are also criminal and administrative liabilities. I said it's an individual liability because there are a lot of charges that can be filed," lawyer Alfegar Triambulo, Inspector General of the Philippine National Police-Internal Affairs Service (PNP-IAS), said in Filipino in an interview with reporters.
He added that the IAS eyes to finish its probe on the incident in one week.
"We would look into the degree of responsibility. First, if there is something wrong, we must immediately correct it because it will stir controversy as it affects the fight against Covid-19. The timeline is one week. We will release the results of the probe," he said.
He, however, said Sinas will not be relieved from his post pending investigation results.
"We will not do that (relief from post) because he has a good performance. As I have said, these are very delicate matters. If we err, it's the Filipino people who might be put at a disadvantage. After all, they are the ones who have implemented the government's pressure against Covid-19 and we cannot deny that they have a good performance," he added.
Aside from Sinas, other police officials who joined the gathering could be held liable for violations.
Civilian lawyers are investigating the matter to avoid bias as the issue is a "delicate" one, he added.
On Wednesday, PNP chief, Gen. Archie Gamboa, directed IAS to look into the allegations of quarantine violations over the incident.
PNP spokesperson, Brig. Gen. Bernard Banac, said this came after media reports said protocols on physical distancing and mass gathering of persons were allegedly overlooked during the gathering at the NCRPO headquarters.
"The PNP is not exempt from strict rules on mass gathering and I am directing all unit commanders to prohibit any and all social gatherings," Banac said in a statement.
Meanwhile, the head of the Joint Task Force Coronavirus (JTF CV) Shield said they support the PNP move to investigate the incident.
"We hope that this controversy serves as a reminder to all public servants to exercise due diligence and sensitivity in every action they do and in every decision they make that are related to our fight against Covid-19," Lt. Gen. Guillermo Eleazar said in a statement.
Eleazar said it is, however, unfortunate that the incident has led to accusations of "double standard" in the implementation of quarantine rules.
He appealed to the public to spare other members of the police force and government front-liners from harsh words and unfair generalization.
"(This is) absolutely unfair to our men and women on the ground who brave the scorching heat of the sun, who risk themselves to infection every day and who make a sacrifice to be away (from) their family just to make sure that every Filipino is protected from Covid-19," Eleazar said. "Our hardworking people on the ground do not deserve (these harsh words)."
Sinas has apologized over the incident but claimed some of the pictures circulating on social media were edited and grabbed from old posts.
"The pictures may depict itself. However it does not define the totality of what really had happened," he said in a statement. (PNA)