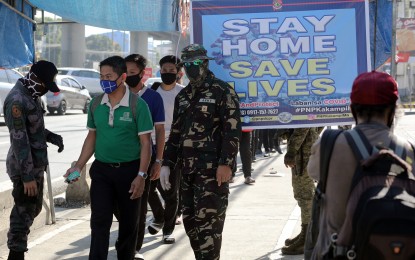 MANILA – The Inter-Agency Task Force for the Management of Emerging Infectious Diseases (IATF-EID) is still evaluating the appeal of several provincial governments to place their respective localities under modified enhanced community quarantine (MECQ), Malacañang said on Friday.
Presidential Spokesperson Harry Roque said the IATF-EID will hold a meeting on Friday afternoon to tackle the requests of some local governments to include their provinces on the list of areas where MECQ will be imposed from May 16 to 31.
"Marami pong mga probinsya na gustong [maging under modified] ECQ (There are provinces that want to be placed under MECQ) although they are now classified as GCQ (general community quarantine). Pero wala pa pong desisyon ang IATF (But the IATF has no decision yet)," Roque, spokesperson of IATF-EID, said in a television interview.
Various provincial governments have appealed to the IATF-EID to consider the reclassification of their community quarantines from GCQ to MECQ beginning May 16.
They made the appeals amid concerns that the sudden relaxation of quarantine protocols in their provinces could further increase the transmission of coronavirus disease 2019 (Covid-19) infections within their respective jurisdictions.
The Regional Inter-Agency Task Force (RIATF) on Covid-19 in Central Luzon, in its Resolution 1 dated May 13, recommended that Angeles City and the provinces of Bataan, Bulacan, Nueva Ecija, Pampanga, and Zambales will instead be placed under MECQ from May 16 to 31.
Roque confirmed that there was a recommendation from the RIATF on Covid-19 to impose MECQ instead of GCQ in the provinces.
He, however, said the IATF-EID's decision on the local governments' appeals would be based on the number of confirmed Covid-19 cases in their localities and their capacity to address the Covid-19 outbreak.
He added that the IATF-EID has to assess whether the national government can still afford to give emergency subsidies to more poor families residing in areas where modified ECQ will be implemented.
"And there [are] also, of course, ramifications because right now, the decision of the IATF is to limit already the amount of social amelioration, the second tranche of which should be limited only to areas remaining under ECQ for the month of May. And we're still not sure where to get the amelioration for the third tranche of assistance for areas which remain under modified ECQ," Roque said.
Under the national government's Social Amelioration Program, some 23 million low-income households are qualified to receive the first tranche of emergency subsidies ranging from PHP5,000 to PHP8,000 based on the regional wage rates.
However, the second wave of cash aid will be distributed to poor families living in areas placed under ECQ.
Metro Manila, Laguna, and Cebu City will be placed under MECQ from May 16 to 31 since these are considered high-risk areas.
GCQ, on the other hand, will be enforced in low-risk and moderate-risk areas in the country.
As of May 14, the Philippines has recorded 11,876 Covid-19 infections.
Around 2,337 persons have already recovered from the infectious disease, while about 790 Covid-19 patients have died. (PNA)