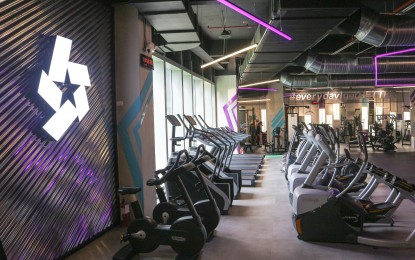 MANILA – One of the most affected businesses during the coronavirus disease 2019 (Covid-19) pandemic are fitness clubs and centers, as government measures like lockdown and community quarantine do not allow these facilities to operate.
In the country, the Inter-Agency Task Force for the Management of Emerging Infectious Diseases listed fitness clubs and centers as those that would remain close even during general community quarantine (GCQ) because of a high probability to transmit the virus in gyms as people share equipment.
Evolution Wellness Philippines, the operator of 12 Fitness First and two Celebrity Fitness clubs in the country, has prepared safety measures and a business operation plan to adapt to the new normal once gyms are allowed to open.
Among the new measures of the gym operator include:
-contactless check-in for members;
-encouraging members to bring their own water tumblers, yoga mats and hammocks, boxing gloves, towels, and workout apparel for hygiene purposes;
-isolating of some fitness equipment to observe social distancing guidelines
-online booking of slots for gym floor access and group fitness classes to ensure that social distancing is observed;
-'No Contact' policy during personal training sessions; and
-Members' Health Declaration Form to be sent on a regular basis.
"In the early days of the virus, Evolution Wellness Philippines has proactively put preventive measures in place to ensure our members, guests and staff are safe inside all our Fitness First and Celebrity Fitness clubs," the company said in an e-mail to the Philippine News Agency Friday.
These measures include mandatory temperature check, increasing frequency of cleaning and wipe down of all equipment, and education of its staff and members on cleanliness and good personal hygiene, among others.
"[A]ll our clubs will be undertaking an extensive series of inspections, servicing procedures that include mechanical, electrical, plumbing, water systems, and fitness equipment assessments, and deep cleaning before we resume operations," it added.
Exercise more important now than ever
The company reiterated the need to be physically active to boost the immune system, which is the best defense against the virus. Exercising also supports an individual's mental health now that people feel more anxious because of the pandemic and restriction during the quarantine period.
"We recognize, however, that nothing can replace the experience of working out inside the gym – complete with necessary equipment, a coach guiding and ensuring your safety," it said.
But aside from providing equipment and a place to train, the company said it is their role to educate and encourage people to start or continue setting healthy habits.
"We recognize that exercise is more important now than ever," it added.
Even without access to the gym, fitness club members should stay committed exercising so as not to lose their gains when they were visiting the fitness center and attending group classes, the company said.
To guide its members for their physical activities at home, Fitness First and Celebrity Fitness offer online classes during the enhanced community quarantine period (ECQ).
Impact on business
"Like most businesses, the fitness industry has not been spared from the downsides of the Covid-19 pandemic. Our business model is built on monthly membership dues as a source of revenue. Since the ECQ was imposed, we have not been billing our members and have therefore not been able to generate any income since March," the company noted.
The Evolution Wellness Group has 6,000 employees across 175 locations in Asia.
"We are committed to providing our employees with as much support as we can, for as long as we can, during this difficult time. During the ECQ where all our clubs are closed, all full-time employees received financial assistance," the firm said.
It also said its senior executive team has volunteered a salary deduction for the next months to meet the commitments to staff at lower levels. (PNA)