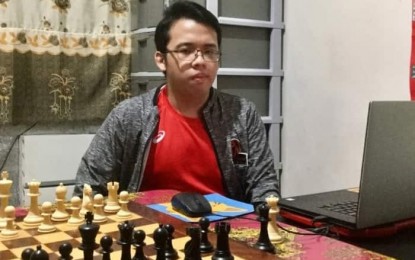 MANILA – International Master (IM) John Marvin Miciano will be among the Philippine representatives to the Zone 3.3 qualifiers for the Asian Junior Online Chess Championship.
The 20-year-old woodpusher booked one of the three tickets by ruling the National Juniors Rapid Online Chess Championship held from Tuesday to Thursday.
Miciano, who was seeded second in the tournament, topped the 16-man field after tallying 12.5 points after 15 rounds.
Fellow IM Daniel Quizon and top-seeded Eric Labog came in joint second with 11.5 points each to claim the other two berths in the zonal event slated from May 26 to June 3.
"Ang Zone 3.3, kasali po dyan ang Pilipinas, Vietnam, Malaysia, Singapore, Indonesia, Mongolia, Thailand, Myanmar, yung Eastern Asia Zone po (Zone 3.3 covers the Philippines, Vietnam, Malaysia, Singapore, Indonesia, Mongolia, Thailand, Myanmar, essentially the Eastern Asia Zone)," Johnny Miciano, Marvin's father, told the Philippine News Agency (PNA) following his son's win.
The top three players after the zonals will then join the top finishers of the other zones in the main event of the Asian Junior Rapid Online Chess Championship later this year.
Marvin Miciano is already a known winner in the offline chess scene as he was once a member of FEU-FERN's juniors chess team that won a three-peat in the University Athletic Association of the Philippines (UAAP) from 2016 to 2018.
The last year of his title run in the juniors turned out to be very fruitful as he obtained his IM status that year by winning the Asian Youth Under-18 Championship.
Miciano still enrolled for one semester in FEU for college last year, even helping the Tamaraws win the UAAP seniors crown, but he had to stop schooling to focus more on his chess career since he has to travel overseas more often.
Mating the king online
With the coronavirus disease 2019 (Covid-19) still raging, chess events have been relegated to the online realm, somehow making this an e-sport of sorts.
"Sa chess.com po sila naglalaban-laban. Tapos para makita sila ng arbiter at ng referees, may webcam. Tapos may application na tinatawag na Zoom. Nakikita sila doon sa camera (They are battling in chess.com. For the arbiter and the referees to see them, there should be a webcam and they should have an application called Zoom. They are seen in the camera)," Johnny related.
Marvin's family has to ensure that their Internet connection is stable enough if they do not want the chess prodigy to get an abrupt defeat, even if he is statistically ahead in the game.
"Kailangan mabilis po ang Internet connection niyo. Pag na-disconnect ka, talo ka (You need to have a fast Internet connection. If you get disconnected, you lose)," Johnny said, baring the dangers of disconnecting from the game.
However, he assured that his son, a native of Davao City who currently resides in Sampaloc district, has a stable Internet connection since Internet speed in the district is relatively fine.
The chess arbiter also wants to assure that online chess matches remain fair, especially because playing online will give chess players a leeway to research on the Internet for possible counterattacks on their opponents' moves or even put up an app to see how their moves fare, which are considered grounds for cheating.
"Sa chess.com, meron silang fair play cheating (policy). Ine-evaluate nila doon yung mga player kung gumamit sila ng cheat engine. So kung gamitan mo ng cheat engine ang kalaban mo, madi-disqualify ka. Tapos maba-block ka ng National Chess Federation. Maba-ban ka ng National Chess Federation at sa chess.com (In chess.com, they have a fair play cheating policy. They evaluate the players if the latter used a cheat engine. So if you use a cheat engine on your opponent, you will be disqualified and the National Chess Federation of the Philippines will block you. The NCFP and chess.com will ban you)," Johnny explained.
On how chess.com makes the NCFP and the rest of the national chess federations globally aware of cheating patterns, he bared, "Sila ang nag-e-evaluate. Tapos nire-report sa organizers kung sino ang mga posibleng nag-cheat (They evaluate them and report to the organizers the possible cheaters)."
Johnny noted that three Filipinos were once caught cheating and were eventually banned.
The cheating patterns are usually seen among players who are not that good in the game, he said, adding that the arbiters also want to assume that the players do not get hints from their coaches via chat as this could also lead to disqualification.
"Nasa isang Zoom (chatroom) lang yung mga players. Mino-monitor ng mga arbiters. Dapat nakatingin ka lang doon sa screen (The players are only in one Zoom chatroom. They are being monitored by the arbiters. They should only look at the online chessboard on the screen)," Johnny further said.
He shared that even if it is an online event, the atmosphere should remain like an "over-the-board" event, that is, the players should be alone in the room and should not even take a comfort room break in-game or bring food.
However, Johnny added that his son could still eat and make a quick visit to the bathroom since an online rapid chess game, in which each player is given 15 minutes to finish off his or her opponent, lasts for at most 45 minutes.
In anticipation of lags, both players are given three-second increments each, hence, the possibility of the game lasting 45 minutes.
Johnny also said that with the Asian level being a higher level of play, the Asian Chess Federation (ACF) requires an additional webcam for his son in his stint.
"Siguro ire-require nila na yung buong room, nakikita (I think they want to require that the entire room can be seen)," he said, meaning that the ACF wants to assure that Marvin is alone in his room without the company of his coach or one of his parents, teaching him the moves.
His parents hope for the pandemic to be put under control soon so Marvin could once again travel to play for norms needed for him to become a grandmaster and be the next in line with the likes of Philippine legend Eugene Torre and now United States-based phenom Wesley So. (PNA)