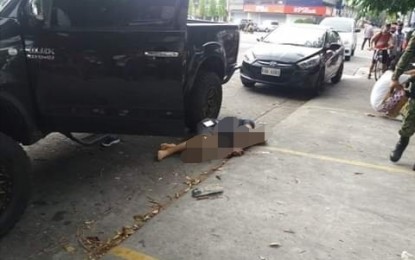 BACOLOD CITY – The Bacolod City Police Office (BCPO) has launched an investigation into the killing of one of the top drug personalities here over the weekend.
Gerald Cuadra, 43, a high-value individual, was gunned down in front of a row of restaurants along B.S. Aquino Drive around 2:25 p.m. on Saturday.
Maj. Sherlock Gabana, chief of Police Station 2, said on Monday that as part of the ongoing probe, they are trying to obtain a copy of the footage of the area during the incident.
Cuadra, a resident of Barangay 1 here, is the son of convicted drug trafficker Jose Kim "Boy" Cuadra, who was sentenced to life imprisonment in 2006. The elder Cuadra is serving his sentence at the New Bilibid Prison in Muntinlupa City.
A police report showed the victim was shot seven times by one of two unidentified motorcycle-riding men. The gunman fired at Cuadra while he was leaving his pick-up truck parked across a private hospital, where his wife was confined.
The younger Cuadra was arrested during a raid at his residence in May 2016. Policemen seized PHP1.5 million worth of suspected shabu and firearms during the operation.
In September of the same year, he posted bail for illegal possession of firearms, and his drug case was also eventually junked by the court.
In March 2009, the victim was also injured in a shooting incident on Lacson Street.
Cuadra is the second prominent drug personality killed while the city is under a community quarantine.
On April 16, former Barangay 35 village chief Manuel "Maui" Huelar Jr., 48, was shot dead by an unidentified assailant in Barangay Villamonte.
Huelar, a former basketball star who played for the Negros Slashers in the defunct Metropolitan Basketball Association, was arrested during a buy-bust conducted by agents of the Philippine Drug Enforcement Agency inside a lodging house in Barangay Singcang-Airport on Nov. 28, 2016. (PNA)