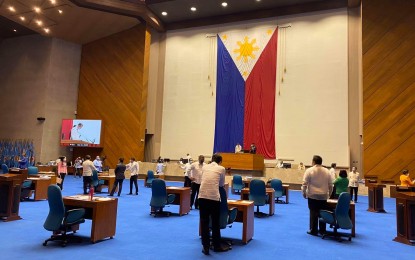 MANILA – The House of Representatives on Monday reconsidered its second reading approval of a measure seeking to grant broadcast giant ABS-CBN a provisional franchise valid until Oct. 31, 2020.
During the plenary session, Deputy Majority Leader Wilter Palma moved to recall the passage of House Bill 6732 on second reading to accommodate lawmakers who would like to make interpellations and amendments to the bill.
"Because of the insistence of our colleagues to interpellate further on the matter, I move that we reconsider approval on the second reading of House Bill No. 6732," Palma said.
The chamber has also re-opened the periods of interpellations and amendments to the measure.
Albay Rep. Edcel Lagman called for the reconsideration of the second reading approval of House Bill 6732 "to cleanse" the measure of constitutional infirmity.
HB 6732 was read on first reading and approved on second reading during a plenary session on Wednesday.
"No bill shall become law unless it has passed three readings on separate days," Lagman said as he cited the Constitution.
Deputy Speaker Luis Ray Villafuerte, however, reiterated that the legislative procedures of the chamber regarding the provisional franchise bill are "constitutional" and "not defective".
"First it has due precedence. We complied with the Constitution," Villafuerte said, citing past measures in the previous Congresses that were approved on first and second reading on the same day.
Villafuerte also said that House members were duly informed regarding the first and second reading of the bill.
"It is my stand that this 18th Congress passed House Bill 6732 on first and second reading on the same day, [that] is constitutionally sound," he said.
House Bill No. 6732 seeks to grant the ABS-CBN Corporation a franchise to construct, install, operate, and maintain radio and television broadcasting stations in the Philippines.
Speaker Alan Peter Cayetano, the main author of the bill, said the grant of a provisional franchise to ABS-CBN would give Congress time to assess with complete impartiality and fairness whether or not the network shall be granted a franchise for another 25 years.
"We cannot, in good conscience, sweep the accusations under the rug and proceed as if nothing happened. As we have always promised, these hearings will be fair, impartial, and above all, thorough," Cayetano said.
"There will be no rush to judgment. Both the praise for and the charges against the network will be heard and will be put on public record," he added. (PNA)