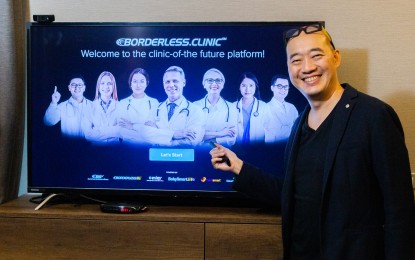 MANILA – A group of healthcare professionals along with overseas Filipino doctors and volunteers can now start an interactive education, counseling, psychosocial support to those affected by the coronavirus disease 2019 (Covid-19) pandemic.
Dr. Wei Siang Yu, founder, and chairman of Borderless Healthcare Group (BHG), introduced the world's first "device-agnostic telemedicine engine" via "Borderless.clinic", which is supported by a multi-lingual video call center with blockchain and facial recognition capabilities.
The clinic-of-the-future platform through Borderless.clinic, he said, can stop the spread of community-based cross-infections amid the uncertainties caused by the pandemic.
The telemedicine platform, he said, has more than 20,000 medically-audited content and a global panel of renowned medical experts from Australia, Singapore, China, Hong Kong, Europe, USA, and other countries.
The platform can be activated through a gadget-diagnostic telehealth service attached to devices such as mobile phones, tablets, and televisions so that top Covid-19 experts can also interact with the public.
"This will soon support Filipino health professionals to reach out to Filipino workers affected by the Covid-19 pandemic in Singapore, Hong Kong, Malaysia, USA, and other countries," he said, adding that they are currently organizing a network of doctors geared as "Borderless Covid-19 Fighters" in various countries.
Siang Yu said the initiative could support the psychological well-being of a Covid-19 positive person.
"Our Filipino volunteers, apart from bringing a series of health education remotely, can also help in arranging family members of the Covid-19 positive patient to join the 'co-care' telemedicine session in the total wellness program," he said, noting that the platform allows family physicians in every country to create an online-to-offline "borderless co-care" diagnostics with top specialists in the world.
The development of Borderless.clinic, he said, aims to build a "heart-ware" for all the Filipino migrant workers and in various non-clinical locations such as universities, transport hubs, and border crossings.
Siang Yu said the Borderless.clinic platform is also available for dormitories.
Dormitories with televisions, he said can apply for free installation.
Dormitory owners can apply for free by downloading the Borderless.clinic's application – as part of the beta phase of the 'Dormitory-of-the-Future' Program via www.borderless.clinic.
The platform, he said, also allows persons to fight Covid-19 from their homes, along with a team of multi-disciplinary health and wellness experts.
The migrant workers are encouraged to sign up at www.borderless.clinic to join the first interactive health education by top Covid-19 experts and local doctors will be held on May 30.
Migrant workers and international students are eligible to join the multi-lingual interactive Covid-19 education program. (PNA)