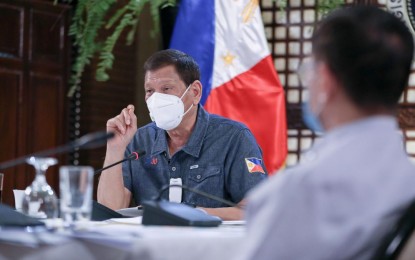 MANILA – President Rodrigo Duterte had no exposure to a member of the Presidential Security Group (PSG), who tested positive for coronavirus disease (Covid-19) but have since recovered.
PSG chief Col. Jesus Durante made this assurance, noting that his troops strictly follow protocols in accordance with the guidelines set by the Inter-Agency Task Force for the Management of Emerging Infectious Diseases (IATF-EID) and the Department of Health (DOH) to prevent the spread of the virus.
"A PSG personnel tested positive for Covid-19 but has long recovered. President Rodrigo Roa Duterte has no exposure with him at all since he is not detailed as close-in security," Durante said in a statement on Tuesday.
He said PSG troopers and their dependents undergo Covid-19 rapid testing every two weeks to detect the virus.
"This is to ensure that PSG troopers do not become a threat to the President themselves and guarantee that his safety is not compromised in any way," he said.
So far, Durante said there were 160 PSG personnel who tested positive after undergoing rapid antibody tests since March.
They automatically underwent quarantine for two weeks away from the President's Malacañang residence and the more accurate real-time polymerase chain reaction (RT-PCR) tests.
From the RT-PCR tests, Durante said only one PSG personnel was confirmed positive but has long recovered and was never detailed as close-in security of the President.
He assured that the PSG Compound and Malacañang complex remains to be safe and secured for the President and the first family.
Earlier, PSG personnel underwent self-quarantine from March 28 to April 10 after ACT-CIS party-list Rep. Eric Yap, who tested positive Covid-19, attended a March 21 meeting at Malacañan Palace despite showing symptoms of the disease.
The Research Institute for Tropical Medicine (RITM), which processed Yap's test results, eventually announced this was a clerical error and he was actually negative for the virus.
Duterte, who underwent tests at Bahay Pagbabago in Malacañan, tested negative for the virus last March.
Tests were performed also on the President's partner Cielito "Honeylet" Avanceña and his three children, Veronica, Sebastian, and Paolo Duterte in their hometown in Davao City.
Malacañan Palace, particularly areas frequented by Duterte, is regularly being disinfected. (PNA)