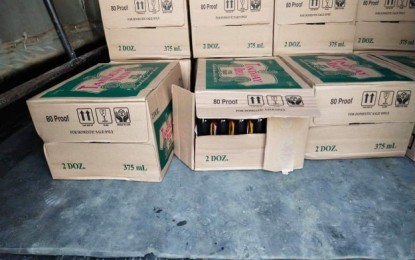 ILOILO CITY – Another erring personnel of the Police Regional Office (PRO) 6 (Western Visayas) was nabbed late Wednesday afternoon for sneaking 60 boxes of liquor through a checkpoint in Guimbal town.
Staff Sgt. Jose Digcabo-on Jr., assigned at PRO-6's Regional Personnel Holding and Accounting Unit (RPHAU), was allegedly involved in the transport of the contraband.
A police report showed that a shuttle van being operated by Leo Faldas of Molo District in this city was flagged down in a quarantine control checkpoint in Nanga village.
When asked to present documents, Faldas failed to show his travel pass and Inter-Agency Task Force (IATF) sticker.
Digcabo-on appeared from the vehicle and allegedly told one of the police officers at the checkpoint not to inspect the van.
"Do not open, sarge, because it is for the group," Digcabo-on allegedly said in the vernacular.
The police officer at the checkpoint, however, proceeded with the inspection and found 60 boxes of Tanduay Rhum.
Digcabo-on and Faldas were brought to the Guimbal municipal police station and will face charges for violating the liquor ban as stated in Executive Order 080 signed by Iloilo Governor Arthur Defensor Jr.
In an official statement, the PRO-6 condemned the act of Digcabo-on who disregarded the stern warning of PRO-6 Director, Brig. Gen. Rene Pamuspusan.
Pamuspusan earlier warned police personnel against buying or selling liquor after three personnel were charged for violating the liquor ban, relieved from their present assignments, and reassigned to the RPHAU.
"The PNP stands firm in punishing police officers who continue to challenge its internal cleansing efforts by immediately filing appropriate criminal and administrative charges against offenders," the statement said.
The PRO-6 has also recognized the courage and discipline of the personnel assigned at the Nanga checkpoint. (PNA)