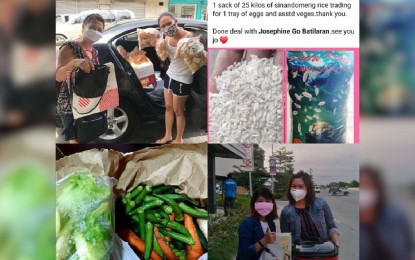 ILOILO CITY – A growing online barter community in Iloilo has shown another side of the Filipino's "bayanihan" spirit as it helps Ilonggos obtain their needs without spending cash.
The exchange of goods and services among members is beneficial with the current coronavirus disease 2019 (Covid-19) pandemic, Charity Delmo, a founding member of the Iloilo Barter Community, told the Philippine News Agency (PNA) on Thursday.
The online trade works as Ilonggos post items up for barter, while other members can post their counteroffers in the comment section, and a "deal" between two parties will be made.
As Ilonggos are stuck at home due to quarantine protocols, they spend time to declutter and find things they do not need which can be beneficial to others.
Usual barters are gadgets for fruits; dresses and shoes for vegetables; bags for sweets; kitchen wares for face masks; infant needs for plants; among others.
The barter can be as odd as an exchange of Guimaras mangoes for USB stick, Delmo said, which shows a clear merge of both rural and urban strengths.
"People in the urban area may have extra gadgets that don't serve them well during the pandemic that those in the rural areas may need. We are happy to see the fusion of these strengths that has been magnified during the current crisis," she said.
Delmo cited that bartering, being a global practice, has kept one city in Canada running for years.
She said that the cashless exchange helps Ilonggos cushion the impact of Covid-19 on the economy.
"It may not directly lift the global economy but is currently a tool to ease down the current pain of our people especially here in the Philippines," she said.
Shiny Genon Aujero of this city said she enjoyed her experience in bartering her calligraphy set and book stand for a multi-cooker; and her blower for fresh vegetables.
"Bartering is an old culture of the Filipinos and I am happy because it is being revived. We have the avenue to trade our unused items that can still be used by some, regardless of how much the value is," she told the Philippine News Agency.
Delmo, meanwhile, said she is seeing a rise in numbers in the current 20,000 community members.
She said the community is also helping its affiliate barter communities in Aklan province, and in Miagao, Lambunao, Calinog, and Janiuay, all in Iloilo Province.
A Filipino community in Italy has also expressed its interest to become an affiliate.
"We are working on not just growing a community, but growing a sensitive community towards each other's needs, with or without crisis," she said. (PNA)