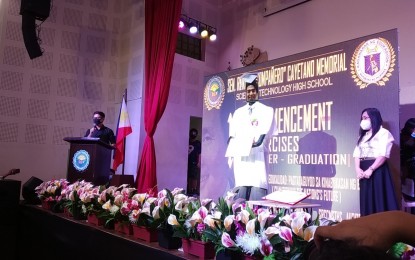 MANILA – For a public high school in Taguig, not even the coronavirus disease 2019 (Covid-19) pandemic can dampen its desire to recognize the fruits of students' labor as it held its first-ever 'cyber-graduation' ceremony on Friday.
Minus the physical presence of graduates, loud cheers, and other ceremonial practices, 179 students of Senator Renato "Compañero" Cayetano Memorial Science and Technology High School (SRCC) had the distinction of being the first 'cyber-graduates' of the school.
This technology-based idea originated from the Taguig City Education Office and the Taguig Robotics Team, a group of SRCC students that had won gold medals at international robotics tilts.
The ceremony featured four robots, made with recycled materials, representing the SRCC graduating class of 2020.
Mayor Lino Cayetano said the ceremony is part of Taguig's Safe City initiative, which helps the city undertake its programs with minimum health standards conforming with Covid-19 protocols.
"Here, we see beyond the restriction and launch a pioneering use of technology to rightfully mark the hardships of our graduates and their parents. We refuse to let Covid-19 diminish the value of this momentous event. We know how deeply symbolic a graduation ceremony is for graduates and their parents," Cayetano said in his video message.
All four robots were operated via remote control to receive the diploma in lieu of the graduate, who instead watched the proceedings with his/her family via Facebook Live.
Toga-wearing robots received diplomas on behalf of the SRCC graduates. The live videos of the graduates were projected on the heads of the robots as their names were called to claim their diplomas.
Footage of the graduates' families was also displayed on the LED screens.
Taguig City Education head Dr. George Tizon said they came up with a program that can help them celebrate their accomplishment while respecting health standards and policies during the quarantine period.
"And this is why they decided to use technology in helping these students celebrate their accomplishment while respecting minimum health standards and without breaking policies that prohibit mass gatherings," Tizon told reporters.
The event took place at 1 p.m. attended by local government officials, the Department of Education, and SRCC, all wearing face masks and observing physical distancing protocols.
Tizon said as per the mayor's order, this will be replicated later in Taguig City's 17,000 graduates from its 24 public elementary and 12 other public high schools.
To further mark the graduation of the 16,923 graduates of Batch 2020, they will also receive incentives from the city government.
"We wanted to incentivize their achievements. Thus, we decided to give them cash incentives that can be beneficial to their families in these difficult times," said Cayetano.
Under the cash incentive program, some 12,931 Grade 6 graduates will receive PHP1,000 each while, PHP1,500 will be given each to 3,276 students graduating from Grade 12.
Those who had displayed academic excellence will continue receiving the incentives given in the past school years.
The top students in the 24 public elementary schools and 13 public high schools in Taguig will receive PHP15,000 each. Those who came in second will get PHP12,500.
The rest of the Top 10 will receive PHP5,000 in Grade 6 and PHP7,500 in Grade 12.
Those who were named first place in their sections will also get incentives. (PNA)