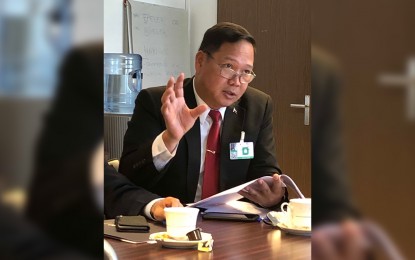 MANILA – A ranking military official and member of the National Task Force to End Local Communist Armed Conflict (NTF ELCAC) on Wednesday denied identifying the University of the Philippines-College of Mass Communication (UP CMC) as a communist-front organization.
The clarification was issued by Lt. Gen. Antonio Parlade, Jr., in a rejoinder to Ellen Tordesillas' article posted on ABS CBN news website's opinion section on May 18, 2020.
"Once again, for the record, I never said UP CMC (University of the Philippines College of Mass Communication) is a front organization. CEGP (College Editors Guild of the Philippines), NUJP (National Union of Journalists of the Philippines), and NUJP (Union of Journalists of the Philippines) are. Media is not the enemy. But if you are a member of 'ARMAS' or 'KM' then you are an enemy and we will hold you responsible if anything happens to these neophytes in CMC," he said referring to Artista at Manunulat ng Sambayanan and Kabataang Makabayan.
Parlade, who is Southern Luzon Command chief, challenged Tordesillas to show proof that it was his press statement which alleged that the UP CMC is a front for the Communist Party of the Philippines (CPP).
"So, Ellen are you now part of those willing to be exploited by the CPP to vilify the NTF ELCAC? Obviously you did not research well, again. Or were you just too eager to react to the falsehoods fed to you by your colleagues who are members of ARMAS, the underground organization hiding under the CPP created, and led NUJP and CEGP? Many of them, I am sure, have been former KM members during their student days," he added in a statement.
Red-baiting, he said, is an old tactic of the CPP in leading detractors to the trap of "lumping all activists as Reds.
"We know it's not true but you want us to commit that mistake. You only wish I will commit that mistake, so even if I didn't, you assumed. So check again," he added.
He also refuted claims that the media is the government's enemy adding that such moves are done by the communist rebels and their allies as part of their classic agitation propaganda.
"They are agitating all media, including those who have nothing to do with the CPP to rally with them in accusing the government of suppressing freedom of speech. Classic agit-prop which we already warned you about," he said.
Rather than brand media as their enemy, Parlade said they have been advising media practitioners to be careful of being exploited by these CPP cadres hiding behind legal front organizations.
"Are we fighting with UP CMC? No, but that's what the CPP agitators want you to believe. And then they will complain of red-tagging," he said.
He added that the NTF ELCAC is not stupid to red-tag an entire college that is a tactic of CPP founder Jose Maria "Joma" Sison.
"That's what he wanted UP to be known for – a breeding ground for commies. That's not our doing," he said.
He said it is their job to warn media practitioners to stay away from those violent communist terrorists whom he claims have been instigating media practitioners to pick up a fight with the government.
"We sternly warn you that the CPP will exploit your threats and pronouncements. We will remind you once more, what the NPAs are capable of doing," he added.
Parlade cited the case of NPA Special Partisan Unit member James Durimon alias "Juros" who confessed that on orders of the CPP, he executed several activists, peasants, and protesters in Panay in order to put the blame on the government shortly after his surrender on September 2019.
"You can go check the interview of Father Conrado Balweg https://youtu.be/vYNJyKA9gao about how the NPAs killed Father Joel, Protestant pastors, and many children/activists so the government will be blamed for it," he said.
In the said interview, he said Balweg, former NPA member, described how they attacked innocent civilians near NPA ambush areas while clad in military uniform.
This was done to entice peasants to exact vengeance on the military by joining the NPA in Abra.
"You continue to ignore that part of our history when the CPP-NPA (New People's Army) bombed Plaza Miranda in order to blame the government?" Parlade added.
The CPP-NPA is listed as a terrorist organization by the United Kingdom, the European Union, the United States, Canada, Australia, New Zealand, and the Philippines.
"The CPP is ruthless so we are warning you. You are dangerously playing with fire with those communist agitators. But there is still time. If you feel something is not right, call your nearest parish priest and seek protection from them. Better yet call us, the NTF ELCAC, so we can secure you. Do it now," he said. (PNA)