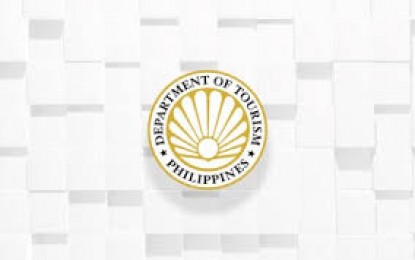 MANILA – The Department of Tourism (DOT) commits to sustain the Filipino brand of hospitality and service to stranded tourists amid the community quarantine brought about by the coronavirus disease 2019 (Covid-19) pandemic.
This, after stranded foreign tourists and their respective embassies commended the DOT for the assistance it provided during the Covid-19 pandemic.
"We welcome these kind words and take upon ourselves the challenge to continue showing our tourists the unique Filipino hospitality even in these trying times," Tourism chief Bernadette Romulo-Puyat said.
"The collective effort of the DOT made all the difficult tasks possible," she added.
Department of Foreign Affairs (DFA) Secretary Teodoro Locsin Jr. said the foreign embassies and consuls have noted that "the Philippines stands out for the care and concern and help that they did."
"We showed goodwill when we have the chance to demonstrate it, they are so grateful to Secretary Berna for the extraordinary work she did to get the stranded nationals out," Locsin said.
To date, the DOT in coordination with the different government agencies has assisted 35,502 tourists, of which 26,550 are foreign and 8,952 are domestic, either in getting them home, whether by land, sea and air travel, or providing them with food and accommodation.
The Netherlands embassy relayed: "We are immensely grateful for the dedication that these Philippine organizations have shown to getting people on their way to their homes in Europe."
"Thank you for trying to help us and helping so many other travelers get to Manila. You and your team provided an incredible service. You are a hero. From the bottom of our hearts, Thank you!!!" said Gwylym White, a rescued Canadian citizen.
In some cases, the DOT took the extra mile in ensuring that the guests did not miss their flights, such was the case of Kelly Matthews, a British national who sent a letter of appreciation to the DOT-Mimaropa team.
"Thank you for your assistance in retrieving our passports from the Bureau of Immigration in Puerto Princesa," it said.
On the other hand, the Australian embassy relayed that "the tourists are so impressed and grateful for all your efforts. It has been truly inspiring to see you and all your team at work. And what a brilliant result! Thank you all so much!"
Earlier last month, the DOT in cooperation with private airlines mounted sweeper flights for local tourists carrying some 1,000 stranded people to Metro Manila and other provinces.
"We are also not forgetting our kababayans, the local tourists, wanting to get home. We are in close coordination with the different local government units and national agencies on how to help them," Puyat added.
Qualified local tourists whose air and land tickets were canceled due to the quarantine were also provided with one-time financial assistance through the Tourism Promotions Board (TPB) and the various Regional Offices of the DOT throughout the country.
"We are hopeful that in spite of being in the middle of these trying times, the guests that we have helped will remember the fun that they had when they were here and that when all of this is over, the Philippines will still be on top of their bucket lists to revisit," Puyat said. (PR)