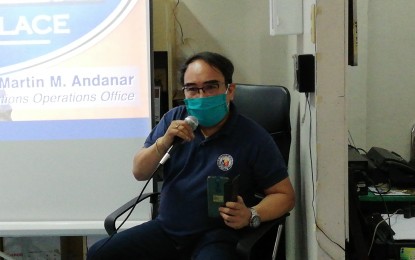 DAGUPAN CITY – The Presidential Communications Operations Office (PCOO) has reiterated its commitment to the protection and welfare of media workers in the country amid the coronavirus disease 2019 (Covid-19) pandemic.
In an interview Saturday, Undersecretary Joel Egco, Presidential Task Force on Media Security executive director, said the PCOO is pushing for the immediate passage of House Bill (HB) 2476 or the Media Workers' Welfare Bill.
"Ironically, media practitioners are also front-liners but like in a war not all have combat pay or hazard pay, even the provision of personal protective equipment (PPE).
"Although, we understand the limitations of the media companies and limitations of the work with big responsibility but limited resources," he said.
Egco said the HB 2476 will help address the challenges being encountered by newsmen as they perform their duties and responsibilities.
"The enemy (Covid-19) is deadly. We at the government are covered with benefits but private media practitioners are not, so we are pushing for the Media Welfare Bill that will line-up benefits, including salary, and other welfare benefits packages that newsmen should also have," he said.
The bill was already tackled on the first reading and the committee hearing at the House of Representatives before the outbreak of Covid-19.
"The committee on labor in Congress and other congressmen are very supportive, so they unanimously support the bill because they also understand the importance of media, especially now," Egco said.
He added that the PCOO is hoping that one of the senators will sponsor and file a counterpart bill in the Senate.
"We already sent a letter to Sen. Christopher "Bong" Go and others, and they are already studying the bill," he said.
Meanwhile, Egco said he also hopes that it will become one of the priority bills of the Congress and would be enacted as law before the end of the term of President Rodrigo Duterte in 2022.
PCOO Secretary Martin Andanar, Assistant Secretary Ramon Cualoping, and Egco went to Pangasinan on Saturday and brought some relief goods for some media practitioners in the province. (PNA)