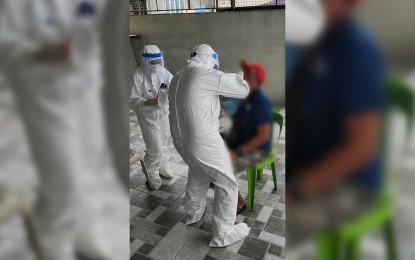 MANILA – Malacañang on Monday said the Philippines' coronavirus disease 2019 (Covid-19) national testing capacity is now 32,000 tests a day.
"This is to clarify that I was referring to our national testing capacity, which is now at 32,000/day, when I earlier mentioned that we have already conducted and surpassed the 30,000 target last May 20," Presidential Spokesperson Harry Roque said in a statement.
In a virtual Laging Handa public briefing on Monday, Roque said the country surpassed its goal by having the capacity to conduct 32,100 polymerase chain reaction (PCR) tests since May 20.
Citing government infographics, Roque said the country's national testing capacity has increased six times from 5,000 on April 15 to 32,100 on May 20.
He attributed the enhanced national testing capacity to the "Trace, Test, Treat" or T3 Program which targets to ramp up testing capacity to 30,000 tests per day by putting up more swabbing centers and laboratory testing centers in strategic parts of the country.
"The goal we set, through the Test, Trace, Treat (T3) Coalition, was to reach a testing capacity of 30,000 by May 30," Roque said. "Our first step to increasing the number of daily tests conducted is to expand our testing capacity. This means more accredited laboratories and more automated machine so that we are capable of testing up to 30,000 plus per day."
He said the next step is to improve the efficiency "so that our laboratories are capable of using that capacity to the highest level possible".
"To achieve this, we need to a) improve our human resources through proficiency training, especially on the use of automated machine, b) improve our supply chain management of critical supplies for our labs, and c) improve our data management to verify and release results faster," he added.
Roque thanked the initiatives of the private sector under the T3 Coalition in reaching the country's initial target ahead of the May 30 deadline.
The T3 Program is being headed by National Policy Against Covid-19 deputy chief implementer Vivencio Dizon.
"Sa nagtatanong bakit nilagay si Vince Dizon, ayan po malinaw po sa sikat ng araw ang kasagutan (For those asking why Vince Dizon heads the program, the answer is as clear as day)," he said.
The PCR-based test kits are still considered as the "gold standard" for diagnosing Covid-19 infections, according to health authorities.
For the PCR tests, trained professionals use nose and throat swab samples to find out whether a person has coronavirus.
Rapid anti-body test kits use blood samples which are unable to detect the virus but instead measures a patient's antibodies through the sample. These tests are still subjected to PCR confirmatory tests.
Roque earlier said the government aims to test 1.5 percent to 2 percent of the country's over 100 million population.
Meanwhile, Roque said the country is now aiming to achieve its goal of having 66 laboratories that can detect Covid-19 by the end of the month.
The country has 42 national Covid-19 laboratories as of May 24, he added.
As of Sunday, the Philippines has 14,035 confirmed Covid-19 cases, 868 deaths and 3,249 recoveries. (PNA)