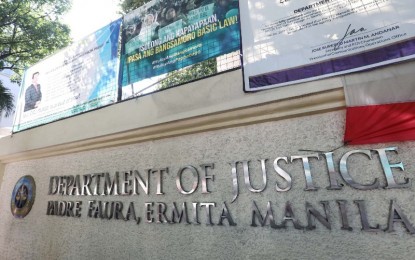 MANILA – The Department of Justice (DOJ) on Monday said reports of online sexual exploitation of children increased by 264 percent as the country is battling the coronavirus disease 2019 (Covid-19) pandemic.
In a statement, the agency's Office of Cybercrime (OOC) said the National Center for Missing and Exploited Children recorded a total of 279,166 cases from its Cyberline Trip Report (CTR) hotline from March 1 to May 24, from 76,561 reports during the same period last year.
The NCMEC is a private and non-profit corporation in the United States whose mission is to reduce child exploitation and help find missing children.
It is authorized to receive reports from electronic service providers, such as Facebook, Gmail, and Yahoo!, and notifies the DOJ every time a report for online sexual exploitation of children where either the offended party or the offender is located in the Philippines is received.
Depending on the actual sexual acts and exploitation committed against a child, investigators and prosecutors use laws, such as Republic Act (RA) No. 9775 or the Anti-Child Pornography Act of 2009, RA 7610 or the Special Protection of Children Against Child Abuse, Exploitation and Discrimination Act, RA 9208 or the Anti-Trafficking in Persons Act of 2003, as amended by RA 10364, and RA 10175 or the Cybercrime Prevention Act of 2012, in indicting persons.
The DOJ said the "increase in NCMEC CTRs is attributable to the fact that during the ECQ, strict home quarantine is observed in all households, and internet usage surges as people stay home".
The number, however, includes multiple CTRs on the same content, misleading digital images such as nude photos of children generated by their parents and/or children in good faith or inaccurate reporting by electronic communication service providers.
Citing figures from the Philippine Internet Crimes Against Children Center (PICACC), the DOJ said that from March 15 to May 21, there have been 22 referrals from the CTRs resulting in the arrest of seven suspects and the rescue of 34 children in 10 operations.
These were filed in the Prosecution Offices of Caloocan City, Taguig City, Angeles City, Pampanga, and Butuan City, and on trial at Lapu-Lapu City in Cebu.
Undersecretary Markk Perete, Undersecretary-in-charge of the DOJ-OOC, said there is a need for internet service providers (ISPs) to install available technology, program, or software to ensure that access to or transmittal of any form of child pornography will be blocked or filtered. (PNA)