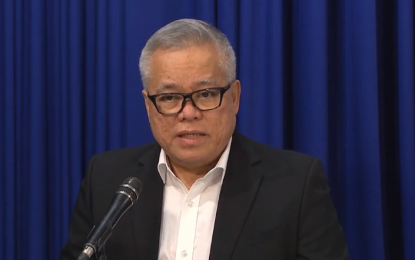 MANILA – The Department of Trade and Industry (DTI) is seeking the urgent passage of the proposed Philippine Economic Stimulus Act of 2020 (PESA), which aims to provide immediate assistance to workers and businesses and help the economy recover from the impact of the coronavirus disease 2019 (Covid-19) pandemic.
"We affirm the need to help sustain the income of workers and businesses adversely impacted by the pandemic as we gradually reopen our economy," Trade Secretary Ramon Lopez said in a statement Monday.
Under the PESA bill, the government will earmark PHP1.3 trillion as a post-pandemic stimulus package, which includes a budget of PHP650 billion for an expanded infrastructure program on healthcare, education, and food security.
"By providing working capital assistance, technical and entrepreneurial education, and financial management, among others, we will be able to protect Filipinos by ensuring businesses will continue operating post-lockdown and help turn the tide for businesses and workers affected by the health crisis," Lopez said.
The proposed law will also allot PHP300 billion for the National Emergency and Investment Corp., which seeks to "minimize the damage" wrought by Covid-19 to the economy; PHP200 billion for wage subsidies and the grant of interest-free loans to assist micro, small and medium enterprises (MSMEs), including businesses labeled "non-essential" during the lockdown; as well as PHP128 billion for the Credit Mediation and Restructuring Guarantee Fund, an expanded loan program that will cover all "critically-impacted businesses" nationwide, among others.
The bill is aimed at restoring business confidence and operations, as well as preventing business closure prior to the imposition of the enhanced community quarantine (ECQ).
It has also been the subject of many consultations and hearings under the Committees on Economic Affairs under Chairperson Sharon Garin and Trade and Industry under Chairman Wes Gatchalian, which consolidates the proposals of Albay 2nd District Rep. Joey Salceda and Marikina Rep. Stella Luz Quimbo.
Lopez thanked the House of Representatives led by Speaker Alan Peter Cayetano and Majority Leader Martin Romualdez for their strong support to revive the economy.
"Businesses have already lost a significant amount of income due to the challenges in logistics brought about by the ECQ," Lopez said.
He said more businesses will be able to operate as the country works towards the gradual lifting of the quarantine, but at lower capacities due to limited capital resources that dwindled during the quarantine period.
"There are also strict health measures that are being imposed and the firms would need working capital loans," he added. "At a very critical time such as this, we must not only ensure a safe working environment for our citizens, but also continue to find means to support, and more importantly save the jobs of those adversely affected to facilitate faster economic recovery." (PR)