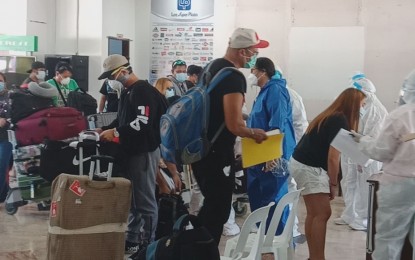 DUMAGUETE CITY – More than 240 residents of Negros Oriental arrived on board two sweeper flights that landed at the Sibulan-Dumaguete airport Tuesday morning.
The passengers were a mix of locally stranded individuals (LSIs) and overseas Filipino workers (OFWs).
The first flight arrived at 11:20 a.m. with 85 passengers, of whom 39 are OFWs and the rest LSIs. The second flight carried 156 passengers that arrived at past noon, carrying mostly OFWs.
Hospital Command System ground commander, Dr. Liland Estacion, a team of doctors and nurses, and city and provincial tourism officers, received the returnees.
Estacion said the OFWs from the different municipalities will have to stay put at the airport arrival area until they are fetched by their respective LGUs.
In the absence of a master list for all OFWs that arrived, the task force had given Philippine Airlines (PAL) locator forms for the passengers to fill out.
The LSIs and the OFWs thanked President Rodrigo Duterte and the national Inter-Agency Task Force for the Management of Emerging Infectious Diseases (IATF-EID) for allowing them to go back home.
Meanwhile, the Australian and American embassies had organized two sweeper flights to fetch their respective nationals in the Visayas back to their respective countries.
City Tourism Officer Jacqueline Antonio said the same aircraft that brought the more than 240 OFWs and LSIs here will transport the foreign nationals on the return flights to Manila.
One of the planes had a side trip to Tagbilaran, Bohol to fetch more or less 50 Australian and American nationals before flying to Manila.
Antonio said she was tasked by Dumaguete City Mayor Felipe Remollo to facilitate the trips of the foreign nationals, including their travel documents.
Veloso said these passengers were on vacation in Dumaguete and Negros Oriental for longer periods, some of them businessmen and permanent retirees but would want to visit their respective countries.
Meanwhile, the city tourism officer confirmed that around 600 Dumagueteños who were stranded in different parts of the country have registered online to go back to the city.
She said their office is in the process of making arrangements and coordination with LGUs where they are stranded for them to return home by batches, on a first-come, first-served basis provided they agree with the mandatory 14-day quarantine period in designated isolation facilities.
Under the new guidelines, the only requirement is for the LSI to present only a medical certificate from the LGU where he or she is stranded and a travel authority without necessarily undergoing a swab test.
Upon arrival, however, the LSI will have to be swabbed or undergo a rapid diagnostic test (RDT).
Another provision that was removed from among the requirements is the certificate of acceptance from the local government units concerned.
Antonio further said LSIs who prefer to stay in private hotels will have to spend for their food and accommodation at a government-designated hotel where discounts are offered.
However, for LSIs who want to stay in the isolation facility of the city, food is provided for free, she said. (PNA)