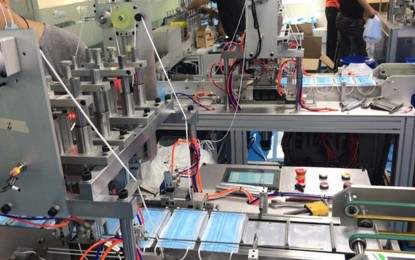 MANILA – The Philippines has ramped up its capacity to locally produce face masks amid the coronavirus disease 2019 (Covid-19) pandemic, a trade official said.
"In fact, our local supply now reaches 25 million, from about 7 million to 8 million combined capacity of MedTecs and Yokoisada," Department of Trade and Industry (DTI) Undersecretary Ceferino Rodolfo said.
To recall, the country's only surgical mask producer before the Covid-19 outbreak is the Bataan-based Medtecs International Corp. Ltd.
The N88 surgical mask and N95 face mask maker has increased its capacity since the Taal Volcano eruption due to surge in demand in the local market.
Clark-based medical supplies manufacturer Yokosaida Philippines Corp. is now also producing surgical face masks.
Aside from the two existing medical supplies producers, EMS, New Kinpo Group, P&G, and Ever Win International Group repurposed their manufacturing facilities into medical grade face mask production to cater to the domestic market.
These companies are originally manufacturing electronic products and consumer goods.
Rodolfo said one of the key constraints in local production of N88 surgical face masks is the sourcing of the middle filter of the face mask, which is a melt-blown polymer.
He added the DTI is in talks with manufacturing companies, particularly petrochemical producers, to help in local production of raw materials for medical grade face masks.
"DTI has been working with many manufacturing firms. Just like in a war, where you try to repurpose some of the manufacturing companies to produce what's needed in the war. And this war against Covid, we have realized that we need to produce our own face masks, PPE (personal protective equipment), ventilators, all these were imported before," DTI Secretary Ramon Lopez said.
As the country ramps up its capacity to locally produce much-needed medical supplies, Lopez said the government is eyeing to stockpile these products.
"It is important that we are self-reliant on this one, and down the road, we are also talking (about) another bill for strategic stockpiling of these materials. That's under Senator [Richard] Gordon's initiative," he said. "We are working on a strategic stockpiling of critical health and medical devices." (PNA)