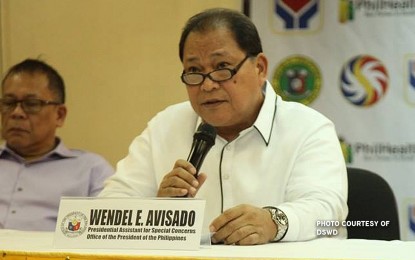 DAVAO CITY – The Cabinet Officer for Regional Development and Security (CORDS) for the Davao region has appealed to the public to condemn youth organization allegedly affiliated with the communist rebel movement, saying its sole aim is to prey on young minds and lure them into the communist terrorist group.
In a statement on Wednesday, Budget Secretary Wendel Avisado appealed to leftist youth group Anakbayan to return Relisa Lucena's daughter, Alicia Jasper, or AJ, 17, who left home in July last year to join the militant organization.
Avisado said Anakbayan's sole aim is to "brainwash, disown, and leave their parents in order to join the Communist Party of the Philippines - National Democratic Front (CPP-NDF)."
The CPP and its armed wing, New People's Army (NPA), is listed as a terrorist organization by the United States, European Union, the United Kingdom, Australia, Canada, New Zealand, and the Philippines.
"Return her daughter back to (the) love and comfort of her family and spare our youth from a lifetime of trauma by being victims of their deception. As parents ourselves, we commiserate with Mrs. Lucena, as we have also felt the agony of a mother who took care of her child from her womb, to the day her daughter learned to speak (a) few words and called her mama and took her little steps and eventually grow up to be (a) smart, loving, and caring daughter only to be taken away by these deceptive, exploitative people in the guise of 'fighting for the country' for their own criminal, political advantage," he said.
AJ, then 16, was in Grade 11 and a consistent honor student at the Far Eastern University when she was recruited by Anakbayan in 2018.
Avisado said AJ's mother believed that her daughter is a victim of an "evil ideology" aimed at destroying "the very fabric of society by first destroying the relationship within families."
"She believes that her daughter had fallen prey to an illusory ideology thought by this terrorist group and is gripped by constant worry about her safety and health," he said.
He lauded the efforts of the Lucena couple to save their daughter "from the deceitful hands of (the) two-faced organization called Anakbayan."
"Ms. Lucena and her husband, together with the members of the League of Parents of the Philippines, have fought the good fight amidst insurmountable odds, all with a purpose in mind of saving their children, and in effect, of our own, from the devil clutches of this godless communist terrorist," he said.
Avisado said the couple, through their lawyer Ferdinand Topacio, filed before the Supreme Court a writ of habeas corpus and writ of Amparo against Kabataan Party-list Rep. Sarah Elago, whose cohorts have allegedly recruited, brainwashed, and spirited AJ away.
"We, as a people, should express our support to this family, whose only fervent hope is to reunite with their daughter. Let us condemn this CTG (communist terrorist group) that is led by the CPP and its armed criminal group, the New People's Army," he said. "Let us not wait that we ourselves or one of our kin become victims of their malicious deceptions."
Our children are the heirs of our future, let us take good care of them and if need be, fight against those whose goal is to destroy their innocence, he added. (PNA)