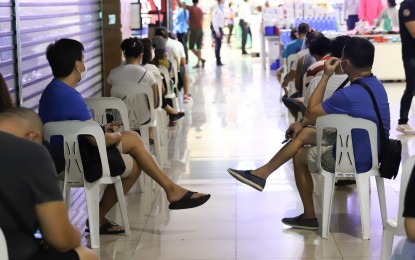 MANILA – A measure seeking to establish regulations for a "better normal" in workplaces and public spaces amid the threat from the coronavirus disease 2019 (Covid-19) pandemic hurdled committee level at the House of Representatives on Thursday.
The House Defeat Covid-19 Committee (DCC) approved a substitute bill to House B No. 6623, or the proposed "Better Normal for the Workplace, Communities and Public Spaces Act of 2020", which seeks to institutionalize safety measures such as the mandatory wearing of masks and observance of physical distancing in public places.
It also seeks to impose mandatory temperature checks, availability of handwashing and sanitizing stations in public areas, contact-tracing systems, and establishment of government-operated quarantine facilities, among others.
House Majority Leader Martin Romualdez, co-chairperson of the DCC, said the bill seeks "to lay the groundwork that will expedite our people's adaptation to the demands of the new normal life."
Romualdez said the bill aims to prepare and educate Filipinos for life after the lifting of the restrictions imposed by the national government and local government units (LGUs) to contain the spread of Covid-19 through new norms of social or physical distancing and safety measures in government and private offices, schools, commercial establishments, and other public spaces.
"As soon as we adapt to the new normal, businesses can resume operations and workers can go back to their jobs without fear of contracting the dreaded coronavirus. Through physical distancing and other stringent safety and health protocols, we can also keep our families safe and prevent the spread of Covid-19 in our communities," Romualdez said.
"We have no choice but to adapt to the new normal. The soonest time possible, the better," he added.
Under the proposal, public gatherings are prohibited, subject to exceptions as may be provided under the implementing rules and regulations (IRR), while privately-organized gatherings shall also be highly-regulated.
For the management of public transportation, mandatory safety measures shall be imposed in terminals, interiors of public utility vehicles, mass transportation, and app-based transport network services.
The bill states that passengers shall be seated one seat apart, and the use of contactless payment mechanisms shall be imposed.
The Department of Education (DepEd) and the Commission on Higher Education (CHED) shall be tasked to determine the start of the academic year and to implement alternative platforms of learning, instruction, and evaluation.
The bill promotes a flexible learning program to limit physical contact among the school population.
It requires firms to submit a workplace management plan detailing how many employees are allowed to work in the office and the overall strategy for the reporting of the workforce to minimize the risk of catching the virus. (PNA)