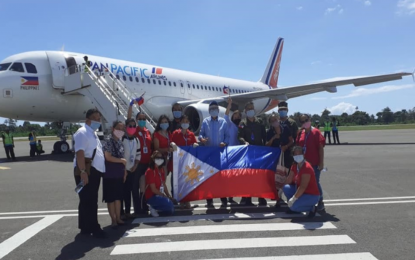 MANILA – The Philippine Embassy in Dili, Timor-Leste organized a humanitarian flight to repatriate overseas Filipinos in Timor-Leste to support those "without work and with economic difficulties on account of the Covid-19 pandemic posing threat to the health of humankind."
The Philippine government-funded Pan Pacific Airlines Airbus A320 flight departed from Nicolau Lobato International Airport in Dili on May 25, 2020.
The humanitarian flight's passengers included 35 overseas Filipinos, four Japanese, 10 South Koreans, and an American citizen.
Other Filipino recipients of this humanitarian repatriation were tourists affected by cancelled flights when the "state of emergency" was declared in Timor-Leste; overseas Filipino senior citizens with underlying health problems, some of the maintenance medicines of whom are not available locally; and workers displaced by the coronavirus disease 2019 (Covid-19) pandemic and who later on became undocumented workers after their visas expired.
Philippine Ambassador to Timor-Leste Abdulmaid K. Muin said travelers have to complete a 14-day quarantine upon arrival in Manila. Those who proceeded to other areas of the Philippines, they will have to complete another identical quarantine period.
The officers and staff of the Philippine Embassy, led by Muin, together with the officers of the Association of Filipinos in East Timor (AFET), worked together to make this humanitarian flight possible, especially in the processing and facilitation of the necessary documentary requirements.
Muin also conveyed his appreciation to all concerned Timorese offices, particularly Timor-Leste Ministry of Foreign Affairs and Cooperation (MOFAC), Civil Aviation, Airport and Immigration Authorities. (PR)