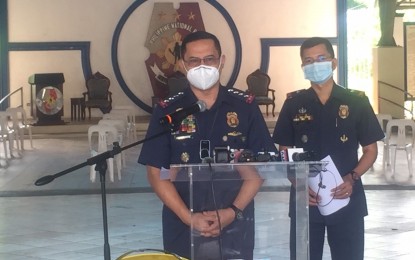 MANILA – The Philippine National Police (PNP) on Monday said it will study whether to downgrade its full alert status as the country shifts into a more relaxed general community quarantine (GCQ) amid the coronavirus disease 2019 (Covid-19) pandemic.
"Hindi pa nada-downgrade (It has not been downgraded) but we will assess. We will assess in a few days if we will downgrade it or not. Kasi kaya lang naman tayo nag-red alert noon, 'yun nga (We just raised red alert in the past) because of the situation," PNP chief Gen. Archie Gamboa said in a virtual presser.
A full alert status has been declared in Luzon as well as other regions since March due to the threat of Covid-19.
"It jibes with the emergency situation as declared by the national authority so sinabayan lang namin (we just jibed with it), it's a state of emergency, required 'yung presence (full presence is required)," he added.
Under a full alert status, all police personnel should be on standby for deployment.
Once the full alert status is downgraded, there would be a reduction in the number of police officers deployed in PNP offices as part of measures to ensure physical distancing among personnel.
As part of adjustments amid the shift to the 'new normal', Gamboa said the PNP will implement a revised deployment scheme and work arrangements to ensure that all PNP personnel, particularly front-liners, are free from infection and are all fit for work through "work-from-home arrangement, skeletal workforce, four-day (compressed) workweek and staggered working hours".
Other measures include the implementation of the minimum health standards that were defined by the Department of Health as "non-pharmaceutical interventions" that do not involve vaccines and the use of information and communications technology to minimize transmission of disease such as virtual use of communication through social media.
"New set of guidelines, policy, and procedures to be observed by all PNP offices and units to ensure protection and efficient delivery of police services under GCQ," Gamboa stressed.
Gamboa added that the PNP would enhance personal knowledge and competency integration on health in the curriculum of different police courses and training programs.
He also bared that PNP will enhance workspace infrastructure adjustments in all offices and vehicles and acquire new equipment such as additional testing and personal protective equipment for all front-liners.
"I have emphasized in the past that whether it is ECQ (enhanced community quarantine), MECQ (modified enhanced community quarantine) or GCQ, the PNP continues to aggressively perform law enforcement functions in support of the national campaign against, crime, illegal drugs, corruption and terrorism," Gamboa said.
He added that there will be no letup in the PNP's campaign against crime amid the health crisis.
Gamboa urged the public to cooperate with the law enforcers as they are now forming new guidelines and policies in law enforcement.
"The past months, while undoubtedly difficult, further strengthens the PNPs resolve to fulfill our mandate as leaders, protectors, and defenders of our people. Together, we will redefine the "new normal" framework, with your health and safety paramount at all times. We ask for your patience and continued cooperation — as we seek an end to the threat of this pandemic," said Gamboa. (PNA)