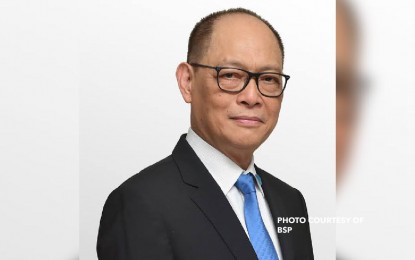 MANILA – Bangko Sentral ng Pilipinas (BSP) Governor Benjamin Diokno called on lawmakers' consideration to help support the country's banking system vis-à-vis the impact of the global pandemic.
In a Viber message to journalists Monday, Diokno said "Philippine banks will play a key role in the recovery process" thus, "Congress shouldn't weaken them."
"The strong and well-capitalized banking industry is one of the pillar strengths of the Philippine economy going into this once-in-a-lifetime health and economic crisis. Moving forward, the Philippine banks will play a pivotal role in the post-coronavirus recovery process. And Congress should be cautious not to unduly weaken them," he said.
Diokno added that monetary officials "support both FIST and GUIDE."
He is referring to the proposed Financial Institutions Strategic Transfer (FIST) law targeted to lessen the pandemic's burden on banks through the institutions of asset management corporations (AMCs), where banks can sell their non-performing assets (NPA).
Proceeds of the sale can be used by banks to boost their capacity to lend to more micro, small, and medium enterprises (MSMEs) and boost economic capacity.
The proposed Government Financial Institutions Unified Initiatives to Distressed Enterprises for Economic Recovery or GUIDE Act aims to strengthen the capacity of government financial institutions (GFIs) to address the liquidity requirements of MSMEs and other strategically important companies.
This will benefit the Philippine Guarantee Corporation (PhilGuarantee), the Land Bank of the Philippines (Landbank), and the Development Bank of the Philippines (DBP).
Diokno earlier clarified that although they are supporting these measures, the domestic banking system remains strong because of reforms instituted in the past.
For one, the sector's non-performing loan (NPL) ratio at the end of the first quarter this year remains low at 2.2 percent, he said.
Diokno said a stress test done to check the sectors' strength showed that the level will remain manageable even if NPLs increased to 5 percent. (PNA)