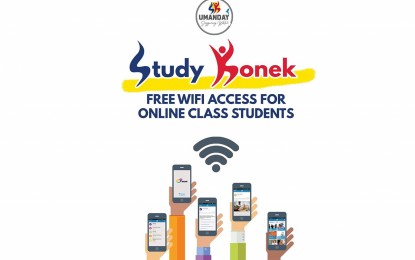 BUGALLON, Pangasinan – The Sangguniang Kabataan (SK) of Barangay Umanday here offers free Wi-Fi connection to students in their community through the "Study Konek" program.
In an interview over Aksyon Radyo Pangasinan on Thursday, SK chairperson Edren Llanillo said the council aims to assist students in their village to access the Internet and attend their online classes as part of the "new normal" during the coronavirus disease 2019 (Covid-19) outbreak.
"We are opening our SK office to accommodate students who wanted to access the Internet through our Wi-Fi connection because not all the students have an Internet connection at home. Actually, since the online enrollment began, some students are coming to our office asking to connect to enroll in their schools," Llanillo said.
Through the project, he said, students in their community would be able to download their study modules, conduct further research and studies, as well as access and submit worksheets.
"Our office is powered with a 100 megabits per second (mpbs) Internet speed, which can accommodate several connections at a time. But we have to limit it with only 10 persons per batch to ensure that minimum health protocols, such as safe physical distancing, will be observed," Llanillo said, adding that each student will have a maximum of two hours of Internet connection per day.
The first batch would be scheduled from 10 a.m. to 12 noon; the second batch, from 1 p.m. to 3 p.m.; and the third, from 3 p.m. to 5 p.m., he said.
Llanillo said the student should book an appointment through text message before the desired time and must wear a face mask.
Body temperature will also be checked before entering the office, he added. (PNA)