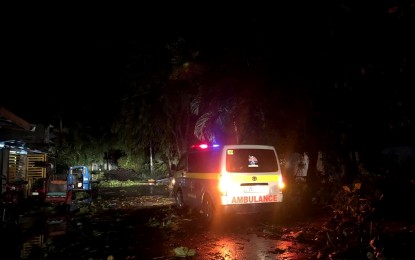 GENERAL SANTOS CITY – Some 43 houses were damaged while several power lines were toppled after a mild tornado hit a coastal village and portions of the city's central business district early Thursday.
A report submitted by the Barangay Council of Bula here to the city disaster risk reduction and management office (CDRRMO) said the tornado ravaged portions of the area at past 1 a.m., ripping off the roof of houses and uprooting trees.
No casualties were reported in the incident, which toppled several electric posts and cut off power supply for several hours in parts of the village.
Minda Faelnar, chair of Purok Zone 8 in Bula, said in an interview that their household was awakened at about 1 a.m. by the unusually strong winds that hit their area, the first time in more than two decades.
"When we checked, we saw the surroundings in disarray due to uprooted trees and scattered roof parts," Faelnar told the Philippine News Agency (PNA) in the vernacular.
Citing their assessment, she said a total of 43 houses, mostly made of light materials, were damaged by the tornado, with some hit by fallen tree debris.
A report posted on the city government's Facebook page showed that the tornado also hit portions of the city's downtown area or main business district, especially in Barangay Lagao, and toppled several trees on the grounds of SM Mall here.
It said personnel of the CDRRMO, Bureau of Fire Protection, and the city police immediately responded and assisted the affected families.
Binrio Biñan, weather forecaster of the Philippine Atmospheric, Geophysical and Astronomical Services Administration station here, said in an interview that the tornado was formed due to the combination of thunderstorms and strong winds.
Biñan said the pattern of the damage showed that it started inland and proceeded to the coastal area.
He, however, said they don't have visual verification of the weather disturbance as it happened just after midnight.
"We expect similar disturbances to happen due to the inter-tropical convergence zone and the easterlies, which could bring thunderstorms," Biñan added. (PNA)