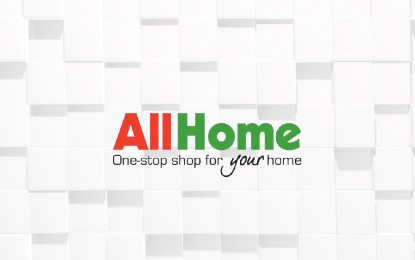 MANILA – AllHome Corp., a pioneering one-stop shop home store, posted a 30-percent jump in net income for the first three months of 2020 to PHP270.2 million from PHP207.1 million for the same period last year.
Total revenues for the first quarter also increased by 41 percent to PHP3.4 billion from PHP2.4 billion.
"AllHome's growth in the first quarter of 2020 was mainly driven by the additional contribution from the new store openings from the last quarter of 2019," AllHome chairman Manuel B. Villar, Jr. said in a statement Thursday.
Villar said they are "very pleased" with the company's performance which remained strong despite the occurrence of unforeseeable circumstances, such as the eruption of Taal Volcano and the enhanced community quarantine (ECQ) due to the coronavirus disease 2019 (Covid-19) pandemic.
The company's total assets as of March 31, 2020 was at PHP19.9 billion, increasing from PHP19.7 billion on December 31, 2019.
AllHome vice chairman Camille Villar said the company plans to capitalize on the "new normal mindset" which is to stay at home.
"More households are taking the opportunity to recreate their personal spaces by prioritizing comfort, refurbishing and renovating their homes since they spent most of their time during the ECQ inside the house. We also added measures to enhance the safety of our transactions such as touch-free payments and various delivery options, including curbside pickups, the use of personal shopping services and beefing up our e-commerce platforms," she said.
AllHome president Benjamarie Therese Serrano said they still view 2020 with optimism as the lockdown condition eases out.
" I would like to highlight that if the situation improves, we have the capability to fast track construction and fit out and subsequently, open new stores as we see fit," she said. (PR)