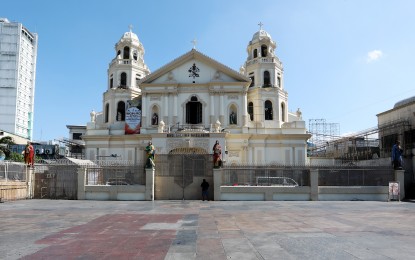 MANILA – The Minor Basilica of the Black Nazarene has reminded devotees to always follow the safe health protocols being implemented by the government when inside the church.
Rev. Fr. Douglas Badong, parochial vicar of St. John the Baptist Parish (Quiapo Church), issued the reminder after the Basilica reopened on Friday while the general community quarantine (GCQ) is in effect in Metro Manila.
Only 10 people were allowed to attend the first Mass and the same number of devotees was permitted in each of the four other Masses scheduled that day.
Quiapo Church celebrates five Masses daily at 5 a.m., 6 a.m., 12:15 p.m., 3 p.m., and 4 p.m.
"To our devotees who will visit Quiapo, we are asking you to follow safety protocols, guidelines. Let's fall in line properly and wait for their turn to be allowed to pray inside the church," Badong said in an interview over the church-run Radio Veritas on Friday.
He said only 10 people are allowed to attend a Eucharistic celebration based on the recommendation of the Inter-Agency Task Force for the Management of Emerging Infectious Diseases.
When there is no Mass, the Basilica allows 50 people to pray inside but they are only given 15 minutes to give way to those who would also like to pray and see the Black Nazarene image at the altar.
Badong said only the main entrance is open and it is manned by personnel who would check the temperature and offer rubbing alcohol to those entering the church.
He also reminded the faithful to always wear a face mask and maintain physical distancing to ensure everyone's safety.
The kissing or "pahalik" of the Black Nazarene image remains suspended. (PNA)