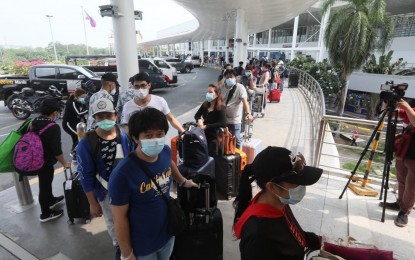 MANILA – Malacañang is reminding local government units (LGUs) to implement additional safety measures at the provincial level to ensure that repatriated overseas Filipino workers (OFWs) are free from the coronavirus disease (Covid-19) when they return to their respective hometowns.
Presidential Spokesperson Harry Roque made this remark following reports that several OFWs tested positive for Covid-19 upon arrival in their provinces despite already undergoing testing and facility-based quarantine in Metro Manila.
Roque explained that Covid-19 testing reflects the person's health status only at the time of testing, stressing that there is still a threat of catching the virus while traveling.
"Between the time a test is conducted and the time of arrival of an OFW or anyone traveling, the possibility of infection remains," Roque said in a statement on Sunday.
He reminded both LGUs and OFWs to exercise all the precautions advised by health authorities during travel.
"Additional safety measures at the provincial or LGU level are likewise necessary to ensure that one is truly healthy and devoid of Covid-19," he said.
Reports showed that a repatriated OFW who recently returned to Palawan on Sunday tested positive for Covid-19 despite undergoing testing in Metro Manila.
Two more repatriated OFWs in Bacolod City and in Negros Occidental also tested positive Covid-19, according to reports.
Local officials did not discount the possibility that the repatriated OFWs got infected during their travel from Metro Manila to their respective provinces.
These OFWs are among the over 24,000 OFWs who returned to the province following the order of the national government to send home stranded OFWs in Metro Manila.
Some 300,000 OFWs are expected to return to the country this year as their host countries have been sending them home.
Earlier, some local chief executives aired their frustration over the lack of coordination by the national government after their cities were surprised with a batch of repatriated OFWs without allegedly following safety protocols.
The Palace, however, said it respects the decision of some LGUs to let repatriated OFWs undergo a second round of testing and facility-based quarantine before returning to their respective homes.
Under government guidelines, all repatriated OFWs are required to undergo polymerase chain reaction (PCR) testing and facility-based quarantine. (PNA)