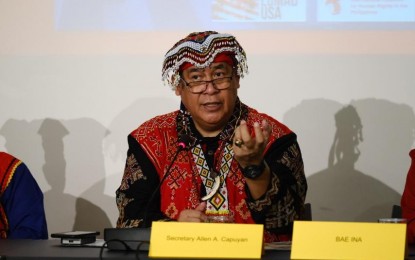 MANILA – The National Commission on Indigenous Peoples (NCIP) has raised concerns over a recent report released by the United Nation's Office of High Commissioner on Human Rights (UN-OHCHR), saying statements provided by chieftains and elders of Philippine tribal communities could have served as a "strong testament" of their resistance against the presence of New People's Army (NPA) rebels in their ancestral domains.
NCIP Chair, Secretary Allen Capuyan, expressed his dismay through a response letter sent to the office of UN High Commissioner for Human Rights, Michelle Bachelet, saying the report has "failed to correctly depict" the situation of indigenous cultural communities/indigenous peoples (ICC-IP) of the Philippines.
"IP communities have similarly expressed deep sadness and frustration that their testimonies have been disregarded in favor of the reports from groups claiming to be civil society and non-government organizations from the Philippines," Capuyan said in the letter dated May 30.
Bachelet, in the UN report dated June 4, 2020, reminded the Philippine government "that its response to major challenges such as poverty, inequality, armed conflict, natural disasters, and the Covid-19 pandemic should be grounded on human rights approaches and meaningful dialogue".
"People who disagree with government policies and criticize them, including in international fora, should not be vilified as terrorist sympathizers. Indigenous peoples should not be victims of a tug-of-war between the state, non-state armed groups, and business interests," the report added.
Affidavit of tribal chieftains, elders
Supposed to be included in the report, chieftains from various tribes in Mindanao signed their sworn statements to voice out the human rights violations and deception of the Communist Party of the Philippines (CPP) and the National Democratic Front of the Philippines (NDFP) as well as their armed wing, the NPA, against IPs in Mindanao.
Datu Angelito Omos, 66, seventh generation leader of the Mangguangan tribe in New Corella town, Davao del Norte province, said he was "lured into joining" the CPP-NDFP-NPA sometime in the 1980s through the church, but resigned from being a church worker when he and the parish priest had a misunderstanding regarding its management.
"I first started my active participation as an activist during the IP Assembly in 1982. This was the first assembly of the National Council of Churches of the Philippines (NCCP) in EDSA, Quezon City. During this assembly, the Consultative Assembly of Minority People of the Philippines (CAMPP) was created," Omos said in his statement.
He added that his legal participation as an activist started in 1983 when he was elected as a representative of the Sector of Tribal Filipino/Indigenous People.
Shortly after, a general assembly of multi-sectoral groups was gathered to organize a larger organization that was later named Mindanao-Sulu Interfaith Peoples Conference (MIPC) in Talomo, Davao City.
He was elected to represent the group.
Still blinded by the group's real motive at that time, Omos said during the assemblies of the MIPC that were covered by the media, discussions floated that the MIPC would be able to get assistance from European funding agencies.
"In July 1987, in the middle of my term as the secretariat of the Lumad Mindanao, I was tasked by the CPP-NDF-NPA to attend the fifth session of the UN Conference of Indigenous Peoples Population in Geneva, Switzerland, with Fr. Eduardo Solang, a representative from Cordillera Peoples Alliance (CPA) of Tadian, Bontoc, Mountain Province, assisted by the couple Cesar Taguba and Yvon Carinio (a political refugee living in The Netherlands), and the sister of Joanna Carino who was holding important positions in the CPP/NPA," he added in the statement.
After the conference, he said they continued to travel to 10 European countries for the International Alliance for Solidarity Campaign in the Netherlands, Belgium, Luxembourg, Germany, Austria, Switzerland, Denmark, Sweden, Norway, and the United Kingdom.
Establishing networks, campaign for funding
For four months from July to October 1987, he said they attended different meetings, conventions, assemblies, and other gatherings.
"The purpose of which was to deliver negative speeches and highlight false issues on human rights violations, killings, and militarization committed by the Army, the police and armed groups allegedly connected and supported by the Armed Forces of the Philippines and Government of the Republic of Philippines," he said.
He added that their objectives in going to Europe were: to attend the fifth session of the UN Conference on Indigenous Populations; to promote/spread issues and concerns of human rights violations in the Philippines against the IP; to establish networks with the minority population/IPs from other countries, especially with IPs who were members of the UN; to promote the struggle of Filipinos in line with the armed struggle of the leftists; to campaign for financial support of the funding agencies; to halt the Nobel Peace Prize of the late President Corazon Aquino for being human rights violator; to create an impression that the Philippine government is abusive, specifically with its militarization; and to be a permanent member of the UN for the IPs to have a voice in the international community.
As part of their mission, Omos said along with Father Eduardo Salang and United Church of Christ in the Philippines (UCCP) Pastor Cesar Taguba, who is also an NDFP leader, submitted a protest letter to oppose Aquino's nomination, citing a massacre incident initiated by the Philippine government against civilians.
"However, the truth of the matter was, there was no massacre committed. What really happened was an encounter between the military and the NPA which led to the killing of more or less ten NPA members," he added.
Before the letter was submitted, Omos and Taguba first requested the tour guide for a dialogue with the committee of the Nobel Peace Prize.
"President Aquino was number one in the list of nominees at that time and that was the last week of October 1987, the period in which the committee is required to come up with the decision," he said.
Recruitment tactics, media mileage
In a separate statement, Dioleto Diarog, 38, shared a much recent brush with death experience with the CPP-NPA.
Diarog is part of the Bagobo Clata Tribe of Calinan District in Davao City.
He was also recruited to the CPP-NPA in the wake of his resentment upon knowledge that a group of armed men ambushed and killed his uncle, then tribal chieftain Datu Dominador Diarog in his residence on April 29, 2008.
He assumed that the older Diarog was murdered after not coming to terms with businessman and Pastor Apollo Quiboloy's desire to own their ancestral domain.
This prompted him to approach Bagong Hukbong Bayan (BHB) also known as NPA where a certain Komander Bobi "influenced him into thinking that joining the rebellion would be the only way to give justice to the sudden death of his uncle".
Quite hesitant to carry arms, Diarog was instead recruited into the Paskaddoy Salugpuang Kalimudan (PASAKA).
He became spokesperson of PASAKA and started appearing in television, radio, and newspaper media to communicate their woes as natives.
"Kami sa (PASAKA) ay nag-aklas at nag-rally laban sa iba't-ibang ahensya ng gobyerno para matugunan ang problema ng mga katutubo at para ipakita sa publiko at sa kumunidad ang kawalan ng tulong ng gobyerno (We in (PASAKA) rebelled and rallied against different government agencies aimed at conveying a message to the public that government authorities do not help us)," he said in his statement.
In Sept. 21, 2008, he pledged his loyalty to the CPP.
Later, he became a full-time NPA member under the Front Guerilla Unit 20 with Crucifino Oballas as commander.
Salugpungan schools
From 2012 to 2016, he worked as a recruiter for carpenters in the community to build Salugpungan schools, the school that was shut down by the Department of Education in 2019 for alleged irregularities and links with the communist rebel movement.
"Itinayo ang Salugpungan para mahikayat ang mga bata sa ideolohiya ng CPP-NPA. May mga pagkakataon din na pinapapunta sa posting ng mga NPA ang mga estudyante ng Salugpungan para turuan papaano humawak ng armas (Salugpungan was built to plant the seeds of CPP-NPA ideology to the children. There were times when children would be ordered to go to NPA postings so they can learn how to use guns)," Diarog narrated.
Diarog cited an instance when he and his colleagues were using the vehicle of UCCP and Rural Missionaries of the Philippines' (RMP), religious institutions that helped build the Salugpungan schools, when he found a document that shows a record of financial transactions.
He said he also saw the logo of the European Union on the document.
They were "organizing bakwits" where they gather IPs from various municipalities in nearby provinces to collect in Davao City and begin wave of protests against the government, he added.
"Ang layunin nito ay mapakita na madaming problema ang mga tribo at komunidad na hindi tinutugunan ng gobyerno kahit ito ay walang katotohanan (Our mission is to make others see our many struggles, that we are not getting any support from the government)," he said, adding that they were also the ones who stormed the Department of Social Welfare and Development (DSWD) 11 office in Uyanguren, Davao City in 2014 to rob sacks of rice that were meant as assistance to Typhoon Pablo victims.
He said his life as a rebel revolved around extortion and harassment against government agencies and businesses.
After some time, he realized that he steered away from his reason of joining the group and after a long time, the promise of bringing justice to his departed uncle was not made.
That time, he said he grew doubtful of the group's goals.
In 2015 to 2016, he said the NPA's Southern Mindanao Regional Command (SRMC) noticed change in his actions.
He was then suspected as a deep penetration agent of the government.
"Ako ay pinagbantaan ng SRMC. Kanilang kinuha ang aking bag at pitaka. Dahil sa kanilang pagdududa, naramdaman ko na ako'y wala nang silbi sa CPP-NPA at ang aking buhay ay maaaring nanganganib na (SRMC threatened me, they took my bag and wallet. I think they see realized I am no longer of use to them, that my life is in danger now)," he shared.
Questioning the non-inclusion
Capuyan, for his part, raised concerns on the UN report, citing its heavy focus on "third party statements."
"We raise serious concerns on the report's unsubstantiated claims of militarization and increase in killings, which, as the report itself concedes, relied heavily on third party statements, accepted without any form of verification on the ground, where we continue to stand with the IPs," he said.
The UN's report, he added, should also account for the CPP-NPA's utter disregard for human rights, as they seek to impose their communist ideology and control over vast indigenous lands, people, and resources.
"We question the non-inclusion of sworn testimonies of our IP leaders and we urge this body to take cognizance of the voluminous submissions of the IPs concerned. If this UN report hopes to fully describe the situation of the IPs of violence and displacements due to "armed conflict and radicalization arising from the absence of progress in transitional justice and reconciliation," he added.
Among the atrocities of the CPP/NPA during the coronavirus disease 2019 (Covid-19) pandemic that were not taken into account by the OHCHR are as follows: Burning of houses and a church in an IP community in Opol, Misamis Oriental on May 28, 2020; Brutal murder of Datu Astudillo on March 19, immediately after President Rodrigo Duterte declared suspension of military operations and at the height of the battle against Covid-19; Raid and harassment of Talipayon IP community in Davao del Norte March 24; Brutal murder of Manobo tribesman, Wilson Behing April 14; Landmine explosion incident in Paquibato hitting a government convoy delivering aid to IP families in Paquibato, Davao on April 19; Brutal murder of Datu Arman Mangumihay on April 21; and murder of Subanen Tribesman, Barley Gumilid in Tudela, Misamis Oriental on April 25.
"By being silent on the CPP/NPA's grave abuses, while lending credence to unsubstantiated claims of aggression, violence, and abuse by so-called civil society groups, this OHCHR report would be aiding certain groups in their commission of grave abuses as reprehensible as the systematic and organized killing of our indigenous peoples. This is worse than supporting the CPP/NPA/NDF's stated aim of subverting and overthrowing the democratically-elected government of the country," he said. "Any state, group, or individual that values human life, equality, democracy, and the rule of law certainly would not want this happen."
The CPP-NPA is listed as a terrorist organization by the United States, European Union, the United Kingdom, Australia, Canada, New Zealand, and the Philippines. (PNA)