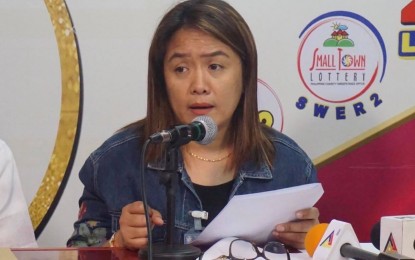 MANILA – The Philippine Charity Sweepstakes Office (PCSO) said it will revert the price of lotto ticket from PHP24 to PHP20.
"We restructured the price. Based on the suggestions of our agents and gaming public. We made a study and analysis and its viable. (We) will roll back to PHP20 and this already includes the VAT (value-added tax)," PCSO General Manager Royina Garma said in a statement Sunday.
The agency earlier hiked the lotto ticket price from PHP20 to PHP24 in 2018 to comply with the passage and implementation of the Tax Reform for Acceleration and Inclusion law which also imposed VAT on the numbers game.
The PCSO is also looking at revising the regulations in giving out the second prize payout for winners.
Garma said the plan for the second prize winners who correctly guessed five of the six winning digits is for each of them to get the prize amount in full, instead of splitting the total prize among the number of winners.
"Except for jackpot prize, 'yung other consolation prizes po, kung ano po 'yung amount sa consolation prize 'yun din po ang matatanggap ng ating mananaya (for the other consolation prizes, whatever is the amount of the consolation prize, that is also what our winning bettors will get)," Garma said in a radio interview.
The revision is seen to attract more lotto players to place bets or buy lotto tickets that may result into higher revenue collection for the agency, which had been affected by the cessation of lotto and other games such as the Keno and the small town lottery (STL) games due to the enhanced community quarantine.
Recently, the PCSO agency has lowered the fees to become an authorized agent of its games to help those who lost their jobs due to the coronavirus disease 2019 (Covid-19) pandemic.
Garma said the under their "3-in-1 promo" program, pay a one-time application fee of PHP2,500 and you can be a lotto, Keno and Sweepstakes agent, subject to compliance with other requirements.
The PCSO also decreased the renewal fee.
Sales commission awaits agents for jackpot bearing games, they will get 7.5-percent sales commission, while 5-percent for Digit Games and Keno; and 10-percent for Scratch Cards.
Aside from the sales commission, lotto agents also get an additional 1 percent of the jackpot prize or a maximum of PHP1 million, as agent's commission for selling the jackpot-winning ticket.
For inquiries, clarifications, and more information, interested parties may call the following numbers or visit our official Facebook page at https://www.facebook.com/pcsoofficialsocialmedia and PCSO official website at www.pcso.gov.ph.
Despite the absence of revenues since March, the PCSO had been aggressive in contributing to the national government's medical as well as humanitarian response to the pandemic.
The agency has released a total of PHP33,894,462 worth of medical assistance to 4,453 indigent Filipinos across the country from June 1 to 5.
The Medical Access Program (MAP) is designed to augment the medical needs of the Filipino people nationwide, particularly the need for hospital confinement, chemotherapy, dialysis, and post-transplant medicines. The program is funded by revenues from PCSO games nationwide. (PNA)