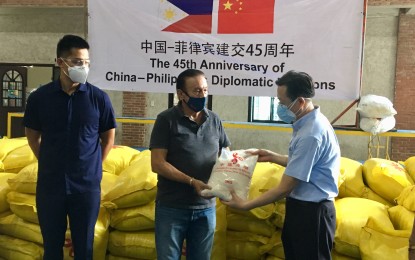 LAOAG CITY – About 2,000 bags of well-milled rice, packed at five kilograms each, were turned over to at least 10 provinces in Northern Luzon courtesy of the People's Republic of China.
In a simple turn-over ceremony held at the Laoag City auditorium on Tuesday, Head of Post and Consul Zhou Youbin of the People's Republic of China in Laoag personally handed the rice bags to Ilocos Norte Governor Matthew Joseph Manotoc and Laoag City Mayor Michael Keon.
In a media statement, the Chinese Consul recognized the people of Northern Luzon who have always been friendly to China since the time of former president Ferdinand Marcos.
"During China's fight against the coronavirus outbreak, we received full support from officials as well as the local people, and we will always be thankful," said Zhou Youbin.
Last April when provincial health workers are struggling for personal protective equipment amid the Covid-19 pandemic, boxes of medical supplies were delivered at the Ilocos Norte Capitol.
The Chinese government through its sister-province Shandong donated these items to health front-liners in Ilocos Norte consisting of 25,000 medical surgical masks, 2,000 N95 medical masks, 2,000 goggles, and 2,000 sets of medical protective suits.
Packs of relief goods worth PHP600,000 also came in earlier as the first batch of relief items from China during the Covid-19 crisis.
Keon said the rice aid will be given to selected recipients such as the health front-liners at the Mariano Marcos Memorial Hospital in Batac City and some local jeepney and tricycle drivers in Laoag City.
Keon said the China aid is a great help for the recovery of public transport drivers whose source of income was greatly affected by the more than two-month lockdown. (PNA)