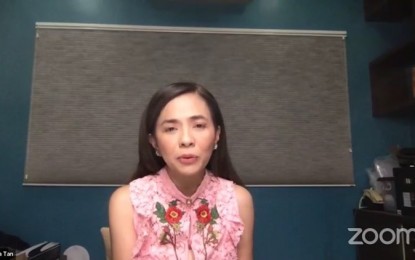 MANILA – As the country continues to face threats from disease outbreaks and other public health emergencies, a leader of the House of Representatives is pushing for a measure that seeks to establish a national action plan for health security.
During a virtual "Kapihan ng Samahang Plaridel" forum on Tuesday, House health committee chairperson Angelina Tan said the measure, which is currently in the consolidation stage, proposes the creation of a permanent National Health Security Council tasked to formulate an action plan for an effective public health emergency preparedness and response.
"It shall, among other functions, establish preparedness and ensure efficient government response to assess, monitor, contain, control and prevent the spread of any potential epidemic and identify the gaps in the national response on the part of the government agencies and its partners from the civil society and international organizations in order to develop and implement necessary interventions required in health security situations," Tan said.
The proposed council shall be an inter-agency body administratively attached to the Department of Health (DOH).
She said the health security national action plan shall be a country-owned, multi-year planning process that can accelerate the implementation of the country's international health regulation (IHR) core capacities.
The action plan captures national priorities for health security, brings sectors together, identifies partners and allocates resources for health security capacity development.
It also serves as an overarching process to capture all ongoing preparedness initiatives along with the country's governance mechanisms for emergency and disaster risk management.
"The bill primarily seeks to introduce as well as institutionalize those essential activities that are required to minimize the danger and impact of acute public health events that endanger the collective health of the population," she said.
She said the bill is currently being consolidated by a technical working group of the House committee on health.
Tan assured that the House has been working on the needed pieces of legislation to combat the coronavirus disease 2019 (Covid-19) pandemic.
She said House Bill 6865, which encourages a baseline polymerase chain reaction (PCR) testing for vulnerable members of society to intercept the transmission of the Covid-19, has already been approved on third and final reading at the lower chamber.
The "vulnerable members of society" include those returning to work with comorbidities such as diabetes, hypertension, pregnancy and old age.
The bill also covers persons entering the Philippine territory coming from abroad, including foreign nationals, provided that the cost of testing for foreigners shall be at their own expense.
The bill provides that priority should be given to the following: healthcare workers; sales personnel in public markets, groceries, and supermarkets; food handlers; factory workers; construction workers; security guards and drivers; and banks and transfer fund facilities personnel.
The bill states that the testing subsidy shall not exceed PHP1,700 for government institutions and PHP1,800 for private institutions per vulnerable person tested. (PNA)