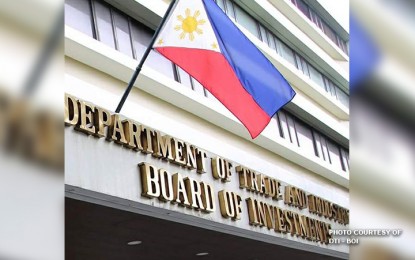 MANILA – The Board of Investments (BOI) will provide incentives to tourism projects involving upgrading and modernizing facilities that will ensure implementation of new health standards amid the 'new normal' due to the pandemic.
In a statement Thursday, the BOI said the investment promotion agency heeded the call of Tourism Secretary Bernadette Romulo-Puyat to put in place possible measures that will allow enterprises in the tourism industry continue their businesses.
Travel and tourism industry is one of the most badly hit sectors due to the coronavirus disease 2019 (Covid-19) pandemic.
The sector, which shares 12.7 percent to the Philippine economy and about 15 percent to total employment, had revenues dropped by 55 percent in January to April this year to PHP79.8 billion from PHP180.5-billion revenue in the same period in 2019.
"We recognize that the tourism sector has been one of the worst affected of all the major sectors of the economy due to the current health crisis. By way of providing investment incentives, we hope the sector, which was a major driver of the economy's growth pre-Covid-19, will stay afloat, continue their business operations, and recover the soonest they can," Trade Secretary and BOI chairman Ramon Lopez said.
The BOI cited renovations and upgrading that will be covered by the tax perks. These include: renovation of guestrooms, food and beverage outlets, function/meeting rooms, recreation areas and/or other common areas; investment in new or upgrade of laundry, kitchen, housekeeping, employee facilities and other back of house facilities; building of full, partial or movable partitions; installation of built-in thermal scanners, hygiene gates, and/or booths; upgrade or improvement of ventilation, air conditioning, air filtration systems, water systems, water treatment facilities (STP); a mobile check-in system; non-touch or no-contact door lock systems; and non-touch control panels in elevators and other areas.
Lopez said the BOI is also looking into providing incentives to existing tourism accommodation facilities in Boracay that will invest on Covid-proofing since a local policy is restricting new and expansion of tourism facilities in the island.
The BOI will also give tax perks to tourist transport, which vehicles are locally assembled and with sanitation features such as barriers, payment portals, deionizers, seat organizers for sanitation kits, and other features that would promote physical distancing.
The incentives offered by the BOI to Covid-19-proofing investments include income tax holiday (ITH) for three years and duty-free importation of capital equipment.
The BOI said the ITH will be pro-rated according to the amount of renovation, while enterprises will only pay value-added tax on their imported capital equipment.
Hotels and resorts, meetings, international conventions, and events (MICE) facilities, and tourist transport companies nationwide are eligible to register their Covid-19-proofing renovations with the BOI. (PNA)